DePauw Dedicates New Performing Arts Center
October 9, 1976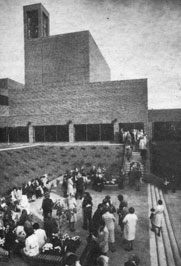 October 9, 1976, Greencastle, Ind. - "At the heart of liberal arts education are the enjoyment and enrichment that come from contemplation of beauty -- a major inspiration for the moral and, indeed, the intellectual life of man," said DePauw University Chancellor William E. Kersetter at today's dedication of the new Performing Arts Center. "We, therefore, have aimed to provide beauty in the building itself, and in the daily experience of University and community persons who in this Center will be creating, performing, and witnessing things of beauty."
The new Center officially opened Thursday night with a concert by the DePauw Symphony Orchestra, DePauw University Choir, and DePauw Festival Women's Choir. Concert pianist John Browning (seen standing at left in photo below) performed yesterday.
Today's festivities, which coincide with Old Gold Day, began at 9 a.m. when DePauw senior Tom DeWitte of Rochester, New York, climbed the stairs of the 37-bell carillon tower and made his way across scaffolding to an elaborate keyboard linked to each bell clapper. His carillon concert was enjoyed by a crowd that gathered in the courtyard below the tower. At 10 a.m., the official dedication of the $8.1 million Performing Arts Center began.
"This is a thrilling day for all of us,"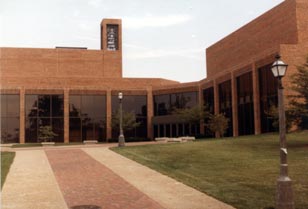 declared Ardath Burkhart '27, a DePauw University trustee, who spoke on behalf of Alpha Chi Omega, which donated the carillon tower in honor of the sorority's founding at DePauw in 1885. The courtyard garden is a gift of Kappa Alpha Theta, America's first sorority, which was founded at DePauw in 1870.
Tonight, an audience will be treated to "An Evening with Cryer & Ford and Julie McWhirter," featuring the talents of three DePauw alumna: Gretchen Kiger Cryer '57 and Nancy Ford Charles '57 who have collaborated since the 1955 "Monon Revue" and perform on the New York stage and television variety shows; and Julie McWhirter, a regular on TV's Rich Little Show whose voice work can also be heard on popular cartoon shows.
The two-week celebration at the Performing Arts Center will continue October 10 with a performance by the Indianapolis Symphony Orchestra with guest violinist Eugene Fodor; a staging of Tennessee Williams' The Glass Menagerie (October 14-17); and a program featuring musician-composer Bill Lockwood '50, actor-singer Bill Hayes '47, and his wife Susan Seaforth Hayes. The couple are co-stars of the daytime NBC series Days of Our Lives.
Among those on hand for today's proceedings were Mr. and Mrs. Stanley S. Kresge, representing the Kresge Foundation.
Construction on the building began in the spring of 1973. Learn more in this previous story.
Back