Prof. Mary English to Direct Management Fellows Program
June 22, 1996
June 22, 1996, Greencastle, Ind. - Mary P. English, associate professor of economics at DePauw, has been appointed to serve as director of the University's McDermond Center for Management and Entrepreneurship. For the past two years, English has been associate dean of academic affairs.
Management Fellows are honors students who either major in economics or choose another major and complete a core of economics and business-related classes. The centerpiece of the program is a six-month paid internship during the junior year. Interns work for consulting firms, investment banks, advertising agencies, not-for-profits, and companies that deal in manufacturing, insurance or entrepreneurial ventures. The interships are spread across the United States and Europe.
Graduates of the 15-year-old Management Fellows program have an exceptional record of placement at top companies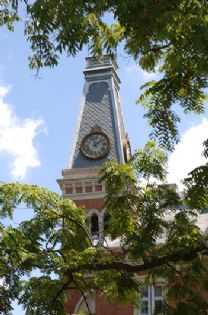 (many of which are students' internship sites) and acceptance into the nation's top graduate and professional programs.
English received her master's and Ph.D. from Southern Methodist University and her bachelor's degree (all in economics) from Southern Illinois University. Her area of academic specialization in economics is banking.
Dr. English succeeds William C. Bonifield, who will remain with the McDermond Center to teach the Management Fellows freshman seminar and assist the center director as needed.
Learn more at the Management Fellows' Web site.
Back