Two DePauw Football Trivia Questions Offered Up by NBC Sports.com
November 14, 2007
Also: Order Your Monon Bell DVD Here

[Download Video: "2007 Monon Memory" - 7808kb]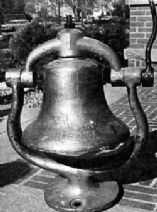 November 14, 2007, Greencastle, Ind. - DePauw University football is the subject of two questions in a football quiz created by NBC Sports.com. One question asks, "Monon Bell is..." and offers the following choices: "A) A 300-pound DePauw offensive lineman; B) A 300-pound trophy going to the winner of the DePauw-Wabash game; C) What a southern gentleman says should he encounter Belle in the morning." The answer is, of course, B.
Another question in the column, which is posted at the Web site of Atlanta NBC affiliate WXIA-TV, asks, "Spud Dick... A) gave Russia an early advantage in the Cold War space race; B) is a quarterback, though shockingly, not in the SEC; C) was the UFR's high school nickname." As fans of Tiger football know, Gerry "Spud" Dick (#18) is the sophomore who has started at quarterback for DePauw the past two seasons.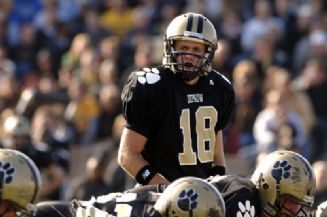 Access the article at the station's Web site.
DePauw football fans are still in the afterglow of Saturday's thrilling, last-second victory over Wabash. Read an account of the game, and see video clips of the HDNet national telecast -- including Jordan Havercamp's 47 yard field goal that returned the Monon Bell to Greencastle -- in this story.
Copies of the 2007 Monon Bell commemorative DVD are selling fast. Order yours by clicking here.
Back