Board of Trustees' Spring Meeting Includes Tribute to Outgoing President Bottoms
April 18, 2008
April 18, 2008, Greencastle, Ind. - In their last meeting under the leadership of Robert G. Bottoms, DePauw University's Board of Trustees honored the man who has led the institution for 22 years with a proclamation and changed his future title. During the panel's two-day meeting, the board was also presented a report on the work of the Campus Climate Task Force for faculty, staff and students of color and updated the progress toward implementing fire safety improvements for Greek and University-owned housing.
R. David Hoover '67, chair of DePauw's Board of Trustees and chairman of the board, president and chief executive officer of Ball Corporation, says the University is still awaiting final Internal Revenue Service of a voluntary program through which the University will invest up to $6 million to help qualifying living units comply with the new regulations,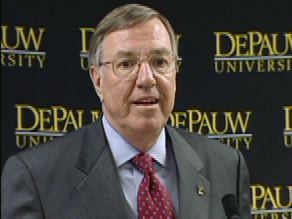 which were unveiled at last spring's meeting. Hoover (pictured at right) believes IRS approval could come very soon.
The chair says that despite recent market turbulence, DePauw's endowment is in "real solid shape," and said the University's investment strategies have protected its assets during a difficult economic period.
At Bottoms' request, the board has changed the title he will hold effective July 1 to President Emeritus from Chancellor. In his new role, he will lead the Janet Prindle Institute for Ethics.
"I was finding that my title was creating confusion," Dr. Bottoms says. "Nobody quite knows what a chancellor does. My main job is to be director
of the Prindle Institute and so it's a change in title, no change in duties," added Bottoms, who is stepping aside from the presidency with several years remaining on his contract.
Brian W. Casey, who will become DePauw's nineteenth president this summer, was on campus this weekend for informal meetings with the trustees and other members of the University community. Bottoms says he "instantly liked" Casey when they first met several months ago and that he and the incoming president have held a series of conversations. Casey, who is currently associate dean for academic affairs in the Faculty of Arts and Sciences at Harvard University, was selected February 21 after an international presidential search.
"It was at our meeting a year ago that Dr. Bottoms announced his intention to step down from the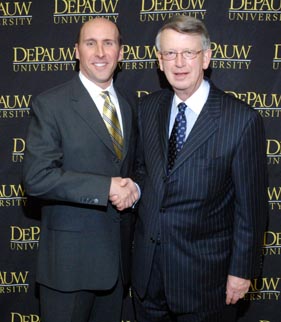 presidency, so think of the progress that's been made in that time," Hoover told student journalists who gathered for an afternoon news conference today. "Here we are a year later and we've hired a new president. They (Bottoms and Casey) genuinely like each other and we have what is a very positive outcome." Hoover called being a part of the presidential search process "one of the highlights of my life."
The board chair spoke of how Bob Bottoms has improved DePauw in "countless" ways, and that the proclamation which was presented to the 18th president at the conclusion of the spring meeting points to only some of the impact he has had on the University.
Presented by the Board of Trustees and signed by secretary Michael R. Maine '61, the proclamation reads:
WHEREAS, Dr. Robert G. Bottoms came to DePauw University as Vice President for University Relations in 1978;

and WHEREAS, Dr. Bottoms was elected the eighteenth President of DePauw, being inaugurated on October 16, 1986;

and, WHEREAS, upon his retirement from the Presidency on June 30, 2008, Dr. Bottoms will have served DePauw as President for twenty-two years, a period longer than any other person in this institution's history;

and, WHEREAS, during his tenure as President, the University's endowment has grown from $95,877,959 to $558,115,274, nearly a five-fold increase;

and, WHEREAS, during his tenure as President, DePauw became one of the 50 top liberal arts institutions in the United States according to U.S. News and World Report, student admissions scores increased by 10 percent and the DePauw student body became widely diversified--welcoming increased numbers of students of color, of many ethnicities, of a variety of faiths, of different lifestyles and from many states and foreign countries;

and, WHEREAS, during his tenure as President, the number of DePauw faculty members increased from 154 to 241; the student-faculty ratio decreased from 15 to 1 to 10 to 1, and the quality, diversity and compensation paid to faculty members all increased greatly;

and, WHEREAS, during his tenure as President, the DePauw campus was revitalized and beautified with the construction or extensive renovation of 17 buildings, the closing of thoroughfares, the creation of campus entrances, the completion of new athletic facilities, and the acquisition and development of a magnificent Nature Park, all of which earned him the title of "Bob the Builder;"

and, WHEREAS, Dr. Bottoms was the inspiration for and the driving force behind a new Institute for Ethics, where he will continue to serve DePauw as its Director, and a building for contemplation and meditation currently under construction;

NOW, THEREFORE, the Trustees of DePauw University, in meeting assembled, do hereby declare their affection for, and their heartfelt thanks and gratitude to, Robert G. Bottoms for his unparalleled service to the University, its trustees, its alumni/alumnae, its faculty, its students, its friends, supporters and other constituents; and the Trustees further express their ardent hope that his continued service to DePauw as President Emeritus and thereafter, as he lays aside the world of work, will bring him happiness and contentment. Done this 18th day of April, 2008, being the one-hundred and seventy-first year of DePauw University.
Back