Howard Sheperd '16 Honored with 1948 Old Gold Goblet
May 28, 1948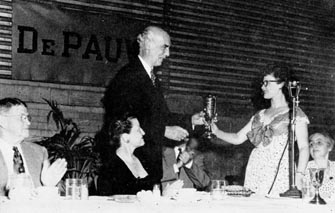 May 28, 1948, Greencastle, Ind. - Howard C. Sheperd, president and director of the National City Bank of New York and 1916 graduate of DePauw University, today received his alma mater's Old Gold Goblet at the annual Senior-Alumni Banquet. Awarded each year since 1941 by vote of the senior class, the goblet is given for "eminence in life's work and service to alma mater." (photo: Sheperd receives the award from Barbara Salmanson, president of the 1948 senior class)
Sheperd serves as vice president of DePauw's Board of Trustees and Visitors and is beginning his 30th year of service to the board.
At the banquet, Louis H. Dirks, who is retiring as dean of men, spoke on "What the Students Have Taught Me." The crowd in Bowman Gymnasium also heard from Parker Jordan '11, president of the DePauw Alumni Association.
Previous winners of the Old Gold Goblet include: Kenneth C. Hogate '18; Roy O. West '90; Charles A. Beard '98; Colonel David M. Shoup, USMC, '26; Eugene C. Pulliam '10; and David E. Lilienthal '20.
Back