Historian Allan Millett '59 to Receive Lifetime Achievement Award
June 23, 2008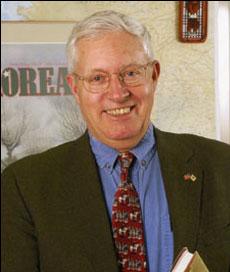 June 23, 2008, Greencastle, Ind. - Allan R. Millett, a 1959 graduate of DePauw University, has been selected to receive the 2008 Pritzker Military Library Literature Award for Lifetime Achievement in Military Writing. The $100,000 honorarium, citation and medallion, sponsored by the Chicago-based Tawani Foundation, will be presented at the Library's annual Liberty Gala on October 4, at Chicago's Drake Hotel.
The Pritzker Military Library Literature Award recognizes a living author for a body of work that has profoundly enriched the public understanding of American military history. The recipient's contributions may be academic, non-fiction, fiction, or a combination of any of the three, and his or her work should embody the values of the Pritzker Military Library. A national panel of historians, writers and individuals related to the study of American history and heritage -- including the first recipient of the award James M. McPherson -- reviewed nominations and definitive works submitted by publishers, agents, book sellers and other professional literary organizations. The finalist recommendation was unanimously endorsed by the executive council of the Foundation established to oversee the award process.
"The selection committee has honored an individual whose life's work in the area of understanding and writing about military history is at the highest scholarly level," says James N. Pritzker, the Library's president and founder. "Allan Millett's written work, teaching and other pursuits have educated and informed us all in a most profound way. In creating this premier annual award to
recognize one author's lifetime commitment to scholarly writing on military topics we ultimately hope to contribute to a better understanding of the horrible complexities of war, past, present and future."
Dr. Millett is director of the Eisenhower Center for American Studies and Ambrose Professor of History at the University of New Orleans, as well as the Maj. Gen. Raymond E. Mason, Jr. Professor Emeritus of Military History at The Ohio State University.
"The Tawani Foundation and the Pritzker Military Library honor me with the second annual Pritzker Award for lifetime achievement in military history scholarship," Millett says. "The award is especially satisfying since it is decided by a group of distinguished historians. I share this honor with my two co-authors, Peter Maslowski and Williamson Murray, and with our loyal legion of graduate students at The Ohio State University. I am indebted to the Mershon Center at Ohio State and to General and Mrs. Raymond E. Mason, Jr., who have supported my research."
Allan Millett -- who majored in English at DePauw and received an honorary doctoral degree at 2001's commencement -- is a specialist in the history of America's military policy, twentieth century wars, and military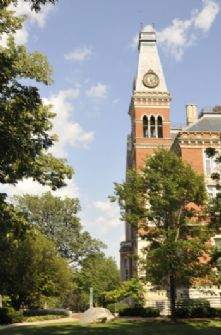 institutions. In the past decade, Millett also has become a specialist of international stature on the history of the Korean War. He began his work on the war as a Fulbright Distinguished Professor, Korean National Defense University, in 1991, and a Fellow of the Korea Foundation, 1996.
Millett's books include Their War for Korea and The War for Korea, 1945-1950: A House Burning. Four of his works are on the required reading list for officers of the U.S. Armed Services and he has contributed original essays to fifteen books on the Korean War, World War II, American historiography, foreign and defense policy and military history.
Dr. Millett is a colonel in the U.S. Marine Corps Reserve. His military experience included twelve years of reserve service in infantry units, including command of an infantry battalion, for which he was awarded the Legion of Merit in 1989.
Learn more in this article distributed by Reuters.
Back