DePauw Signs University Presidents Climate Commitment
September 15, 2008
Also: DePauw Sustainability Home Page; Photos from Today's Announcement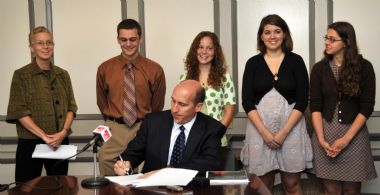 September 15, 2008, Greencastle, Ind. - DePauw University today demonstrated its commitment to environmental responsibility and counteracting climate change by signing the American College & University Presidents Climate Commitment. By signing the commitment, DePauw's Brian W. Casey joins 575 college and university presidents and chancellors across America who are pledging to neutralize the greenhouse gas emissions of their institutions and make environmental awareness a key component of campus life.
President Casey has charged Neal B. Abraham, executive vice president of the University, vice president of academic affairs and dean of the faculty, to develop a plan for implementation of the pledge and present it to the community by December 1. Abraham will be charged specifically to see how the University's academic program can support -- and can be enriched by -- the University's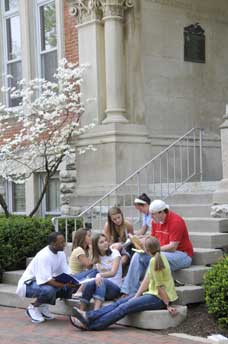 sustainability efforts.
Present at this morning's announcement were DePauw student leaders; faculty members Jeanette Pope, Kelsey Kauffman and Jennifer Everett (who oversaw DePauw's sustainability efforts last year); and Greencastle Mayor Sue Murray. As it continues to look for new environmental efficiencies, DePauw will share information with Greencastle, which has been named 2008 "Green Community of the Year" (along with Bloomington) by the Indiana Association of Cities and Towns.
"These are issues which are enormously important to our students and which many of them are already doing something about in the way they live their everyday lives," Dr. Casey said as he signed the commitment. He noted that the first e-mail he received after being named DePauw's 19th president was from sophomore Anthony Baratta, asking Casey to ramp up DePauw's sustainability efforts.
"As part of the task of educating young people we must also listen to their concerns and ensure that the University itself is living up to its obligations as a citizen of the world. Today's move means that DePauw is committed to enhancing the work it has done in recent years to be a place that finds innovative ways to reduce the strain it puts on Earth's resources. This is also a pledge that DePauw will enhance its already rich discussions of environmental issues and problem-solving throughout the University's academic life."
By becoming a signatory of the Presidents Climate Commitment, DePauw University pledges to begin the process of reducing its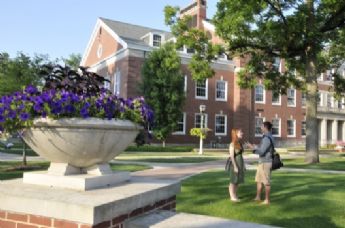 greenhouse gas emissions and becoming climate-neutral. The document states that universities can be leaders in serving as "role models for their communities and in training the people who will develop the social, economic and technological solutions to reverse global warming." In addition, the presidents and chancellors signing the commitment say they believe that taking action will stabilize or reduce their institution's energy costs, will attract excellent students and faculty, as well as new funding sources, and will increase the support of alumni and local communities.
Dr. Abraham announced today that he is appointing Carol Steele, associate dean of academic affairs, to serve as administrative coordinator of DePauw's sustainability efforts and of compliance with the Presidents Climate Commitment. She will be assisted by Tiffany Briery, a 2008 DePauw graduate and fifth-year intern, as well as senior Missy Orr and sophomore Taylor Cantril.
Learn more about the American College & University Presidents Climate Commitment by clicking here.
DePauw's new Janet Prindle Institute for Ethics recently became the first building in Indiana to earn a LEED New Construction Gold 2.2 rating for energy efficiency and environmental design from the U.S. Green Building Council. The Prindle Institute is featured in the latest edition of Environmental Design + Construction magazine.
The Bartlett Reflection Center, which is in the final stages of construction near the Prindle Institute within the DePauw Nature Park, has also been designed to obtain LEED certification.
On August 21, the National Wildlife Federation honored DePauw University for its efforts to promote sustainability in its report, "Campus Environment 2008: A National Report Card on Sustainability in Higher Education." Details can be found in this previous story.
Learn more about DePauw's sustainability efforts by clicking here.
Back