New Jack McWethy '69 Mentorship Will Bring Professional Journalists to Campus
September 18, 2008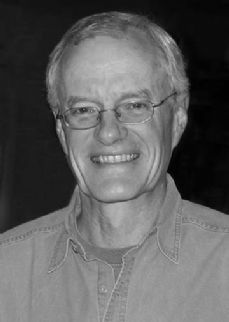 September 18, 2008, Greencastle, Ind. - In memory of John McWethy, longtime national security correspondent for ABC News and 1969 graduate of DePauw, a new Jack McWethy Mentorship is being established to bring working professional journalists to the Greencastle campus to work with student journalists. The Mentorship was announced at tonight's session of DePauw Discourse 2008 by Bob Steele, Eugene S. Pulliam Distinguished Visiting Professor of Journalism.
A friend and classmate of McWethy's at DePauw, Steele and his wife, Carol -- who serves as associate dean of academic affairs -- contributed the lead gift to establish the new program.
McWethy frequently returned to campus to work with student journalists. He died in a February 6 skiing accident in Colorado.

[Download Video: "Prof. Bob Steele '69" - 1622kb] "Jack truly enjoyed returning to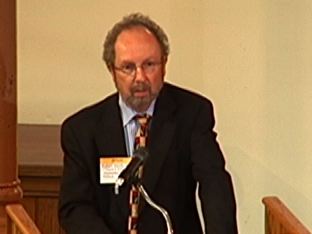 campus to connect with the students: not to tell war stories, not to be the expert, but to mentor them in his own inimitable, intense McWethy way," Steele told the crowd in Meharry Hall of historic East College tonight. "Generally dressed in denim or flannel and work boots, he thrived on conversations with the students, listening to their interests and their thoughts. He rigorously asked them questions while subtly coaching and guiding them to form their own conclusions and see the pathways for themselves. And it wasn't just about journalism. Jack was a mentor on life, offering DePauw students a model for how one could grow up and grow old meeting observations to others, serving democracy and loving family."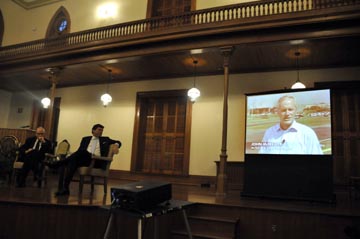 Steele read a letter from McWethy's widow, Laurie Duncan '71, who praised the Jack McWethy Mentorship. "I think he would see it as a way to encourage independent thought and relentless inquisitiveness. Finding mentors to work with DePauw students is one of the best ways to pass on experience and to give new graduates the confidence to pursue their goals and their dreams. There can be no greater legacy."
A video tribute to the newsman was also played.
Bret Baier, chief White House correspondent for FOX News Channel and 1992 graduate of DePauw,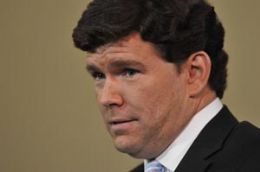 worked alongside McWethy at the Pentagon for five years.

[Download Audio: "Memories of Bret Baier '92" - 592kb] He recalled his ABC competitor as a "fierce competitor and a very good friend" who often advised, "Remember, when you go home, put your jacket on the hook and check your job at the door."

[Download Video: "Lee Hamilton '52 on McWethy" - 3501kb] "He was an extraordinarily curious man," Lee Hamilton, the former congressman and 1952 DePauw graduate, recalled. The subject of many McWethy interviews over his long career, Hamilton remembered McWethy as a journalist who prided himself on accuracy and "was very, very skeptical of any government official, and I think a journalist has to be that way." Hamilton added that McWethy "was not interested in being a pundit ... and he was a person of great integrity. So I deeply appreciate what DePauw is doing to recognize this extraordinary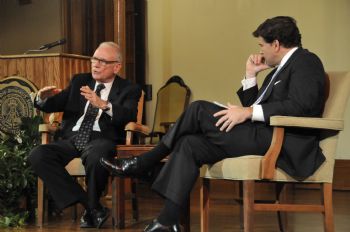 reporter: a professional of the highest caliber. And think, my friends, where we would be in a representative democracy, which depends upon all of us getting good information, if we did not have journalists like Jack McWethy."
Learn more about Jack McWethy in this story as well a summary of an ABC News tribute to him.
John McWethy presented the commencement address at DePauw and received the McNaughton Medal for Public Service on May 18, 2003.
Back