Always Ask "Why," ABC's John McWethy '69 Urges DePauw's Class of 2003 in Commencement Address
May 18, 2003
Also: View Photo Gallery; Complete Video of Jack McWethy's Speech; President & Walker Cup Recipient Speak; Three Receive Honorary Degrees; Order Your 2003 Commencement DVD
May 18, 2003, Greencastle, Ind. -

[DOWNLOAD VIDEO: "Miracles" 494KB] "From the perspective of a parent looking out at you, you are 500 miracles, truly. God danced the day you were born and now 21 or 22 years later I am sure he is dancing again," said John McWethy, chief national security correspondent for ABC News and a 1969 graduate of DePauw University, as he began his commencement address to the Class of 2003. "You may not remember the specifics of this day, but you are being transformed as you sit here. Yesterday you were a student, today, by the time you leave, you will be a graduate."
McWethy also was honored with the McNaughton Medal for Public Service, which has only been presented seven times previously. He told the graduates,

[DOWNLOAD AUDIO: "DePauw's Relevance" 122KB] "You cannot imagine how relevant the building blocks of experience and knowledge that you have gained here will prove one day in your life. From what you have learned at DePauw in these wonderful small classrooms you may not have learned the answers, but you certainly have learned how to ask the questions. Years after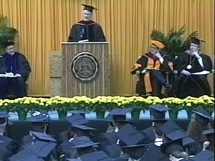 you have left Greencastle, I predict that something a professor said to you will suddenly flash back in your mind and ring so true and so wise."
The winner of three national Emmy Awards whose reports on military and diplomatic aspects of U.S. foreign policy can be seen nightly on World News Tonight With Peter Jennings, McWethy said, "Not in my wildest dreams did I think my European History course would provide the baseline of knowledge that I would need when I stood in Moscow watching the Soviet Union collapse, changing the political landscape in the world for decades. How could I have known that a Comparative Religion course would provide me with the foundation to better understand what was happening in what was then Yugoslavia between the Serbs, the Croats and the Moslems, who seemed to hate each other with such passion. I never would have imagined that my African History course would provide any leavening whatsoever when I first stepped off a plane in Mogadishu, Somalia. It was hot and
dusty and within minutes there was gunfire."
McWethy has covered two dozen wars.

[DOWNLOAD AUDIO: "Then and Now" 165KB] "When I was here at DePauw, I protested against the war in Vietnam," he told the graduates, parents, faculty, administrators and others who filled East College lawn. "Something seemed so wrong to me as a student. Without knowing it at the time, it turned out our government was lying to us. How could I have known that I would spend most of my working life covering this country's wars and trying to understand what makes people go to war, asking questions of our government every time we headed towards conflict."
McWethy, whose career in journalism began at The DePauw, stated,

[DOWNLOAD AUDIO: "Why" 259KB] "The word 'why' is, in my view, the most powerful word in the English language. It is the driving force of my profession, and it's also the driving force and at the heart of your professors, creative sciences, honest politicians,
and of good parents. Don't stop asking the word 'why' just because you're leaving DePauw. All institutions, all endeavors, all relationships are improved by a good scrubbing using the word 'why.' In democracy it is the question we must all constantly be asking our government and our leaders. It is not unpatriotic to question the government; it is unpatriotic not to."
McWethy, who was at the Pentagon on Sept. 11, 2001, when the building was struck by an American Airlines passenger plane, traveled to Tora Bora in Afghanistan to cover U.S. special operations teams as they searched for Osama bin Laden continued. He's reported on the air war over Kosovo and the India-Pakistan conflict. He spent months in Bosnia before and after American troops arrived, and visited Liberia during the worst of the fighting, when the U.S. Embassy was under siege. Assignments have also included reports from Haiti, Somalia, Mozambique, Russia and the Middle East.

[DOWNLOAD AUDIO: "A Great Country" 99KB] "Every time I leave this country it makes me appreciate what we have here: our democracy, our free press and our peace. After all, where else do people order a double cheeseburger [and] an order of fries with a Diet Coke."
About the journey graduates begin today, "the journey called the rest of your life," John McWethy urged,

[DOWNLOAD AUDIO: "Advice to Graduates" 273KB] "Whatever you do, make a difference. You don't have to win a Nobel Peace Prize to have an impact. Try small acts of kindness:
shovel a neighbor's walk without being asked, paint a room in your church, work an evening in a soup kitchen or homeless shelter, have something positive to say to someone around you, even though you may not be feeling very positive. If you help someone else, you will help yourself. It is so simple. It is not what you say but what you do that makes a difference in your relationships, in your job and in your life."
But McWethy's address had its share of lighthearted moments.

[DOWNLOAD AUDIO: "The Goal" 125KB] "If I offered you a whole lot of profound thoughts, my thought was, 30 minutes after leaving here you probably would've forgotten it. But my hope is 20 years from now, when your children ask you, 'What was graduation like?,' you might be able to quickly remember 'I laughed and I was happy.' That'll be my goal."
The veteran journalist proceeded to offer DePauw's 481 graduates "nine important lessons that you can sink your teeth into":
"Never trust your dog to guard your lunch."
"You do not need to balance your checkbook, but you do occasionally need to check your balance."
[DOWNLOAD AUDIO: "#3" 131KB] "Never take a laxative and a sleeping pill at the same time."
"Never confuse your career with your life."
"Never hold a cat and try to use a Dustbuster at the same time."
"Floss your teeth; you may not care about your teeth now, but when they start to fall out, trust me, you will."
"Do not lick steak knives."
"Stretch every morning and meditate. Now, I never did this, but it sounds like such a good idea that I'm sure you'll be a better person if you do."
"When a woman you love asks, 'How does my hair look?,' the answer must always be 'Terrific' and you must sound like you mean it."
After the laughter subsided, McWethy told the graduates,

[DOWNLOAD AUDIO: "DePauw's Greatest Gift" 157KB] "Some of the people with whom you're sitting today you will never see again and you will probably be glad of that. Some will become your dearest friends until the day you die. You will have made connections here that will live and grow. You will marvel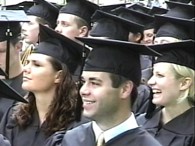 at how your friendships that began on this campus will last and grow over the decades. That may be DePauw's greatest gift to you: the people."
The McNaughton Medal honors the memory and commitment to public service of 1942 DePauw graduate John McNaughton. In 1967, shortly after being appointed Secretary of the Navy, McNaughton and his wife and son were killed in a plane crash. That same year, the friends and family of John and Sally McNaughton, led by then Secretary of Defense Robert McNamara, established a memorial at DePauw in the form of the McNaughton Medal for Public Service, which has been awarded on seven previous occasions. Previous recipients were chemist Percy L. Julian (DePauw 1920) in 1972; William D. Ruckelshaus, administrator of the U.S. Environmental Protection Agency in 1984; U.S. Representative and 1952 DePauw graduate Lee H. Hamilton in 1987; Emory University President James T. Laney in 1990; Vice-President of the United States Dan Quayle '69 in 1990; civil rights leader and 1957 DePauw graduate Vernon Jordan in 1993; and U.S. Senator Richard Lugar in 2001.
Back