2,500+ Celebrate the Inauguration of DePauw's 19th President, Brian W. Casey
October 10, 2008

[Download Video: "Edited Montage of the Installation Ceremony" - 10,005kb];

[Download Audio: "President Brian Casey's Inaugural Address" - 14,108kb]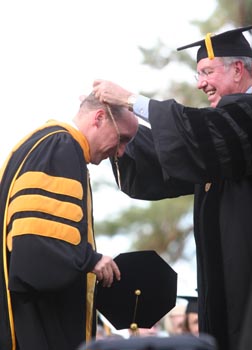 October 10, 2008, Greencastle, Ind. -

[Download Video: "A Good and Necessary Place" - 663kb] "The world needs this good and necessary place," said Brian W. Casey as he was formally installed this afternoon as the 19th president of DePauw University. "It is the hope of our students, it is the beacon of our alumni, it's the sustaining groves for our faculty, it is the hope of the world." (top two photos: Alex Turco)
A crowd of more than 2,500 filled Holton Memorial Quadrangle to celebrate Dr. Casey's inauguration. The crowd included many students and alumni, DePauw faculty members, and 56 delegates from other colleges, universities and educational organizations.
After a nine-month international search, Brian W. Casey was announced as DePauw's new president in February, and he assumed office on July 1, 2008. He
came to DePauw from Harvard University, where he was associate dean for academic affairs in the Faculty of Arts and Sciences.

[Download Video: "At Just These Moments" - 1622kb] "The world is heavy with us today, deep and long. One cannot read the news and not feel the trials of the present and not feel the need to worry sometimes about the future," he said. "But at just these moments we must return to and celebrate our essential task. Beyond the news of the day is this task. Beneath these banners is this task. When the tents go away there is this task. Our task, of course, is to give license to wonder; to create possibilities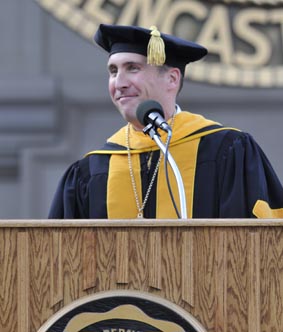 commensurate with our students' capacity to dream."
The new president stressed that the festivities were more about DePauw and its traditions than himself.

[Download Video: "What It's About" - 1633kb] "Today is actually about the eighteen presidents before me, all of whom worked with hundreds of faculty members who, in turn, taught thousands of students, who themselves walked by this library that contains the thoughts and words of a million women and men." Casey added, "Today is also about Dr. Robert Bottoms, who I thank for his friendship and his warm guidance. Much of what we are celebrating today is a celebration of his good work and his great vision."
Bottoms, the longest-serving president in DePauw's history, stepped aside after 22 years at the end of the 2007-08 academic year and now serves as director of the Janet Prindle Institute for Ethics.

[Download Video: "President Zimmer on President Casey" - 5722kb]"DePauw, which has such a rich history and a community rightly proud of its achievements, is very fortunate to have Brian Casey as its president at this time," declared Robert J. Zimmer, president of the University of Chicago, who provided the keynote address at today's ceremony.
Zimmer and Casey worked together at Brown University, and the former stated, "Everything I know about Brian ... tells me just how suited he is for this challenge. He is a historian with a keen sense of ambition for the future. A man of both great natural intuition and sharp analysis. And I cannot tell you how many times I have seen Brian go into a room filled with persons of widely differing perspectives and emerge -- sometimes to my total amazement -- having led the group to a very productive common conclusion. I always attributed this, in no small measure, not only to natural talent and working so well with a broad array of people, but to his absolute integrity and his commitment to excellence, which was visible to one and all. As an extra bonus, everyone always enjoys working with Brian because of the utter ebulliance, optimism and joy he always brings to the task at hand."
Dr. Zimmer added, "As DePauw looks forward to its next steps, to making the important decisions that will help define its evolving position in the landscape of American higher education,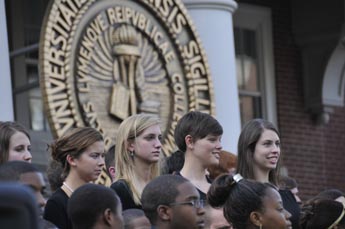 I know that with Brian's leadership the DePauw community will not only make great progress, but also have a wonderful time doing it."
Hear President Zimmer's speech in its entirety here:

[Download Audio: "President Robert Zimmer's Complete Address" - 5329kb].
Before he presented the new president with a medallion of the University's seal [

[Download Video: "The Medallion is Presented" - 1404kb]], R. David Hoover '67, chair of DePauw's Board of Trustees, spoke of "DePauw moments" that all alumni share. "There's the day your parents dropped you off, the classes that helped you become more curious and reflective, the Old Gold Days and dances, and the classmates who became some of my best friends, including my wife, Suzanne. There's also the way you still feel every time revisit this campus," he stated. Hoover, president and chief executive officer of Ball Corporation, continued, "It is my honor to serve as the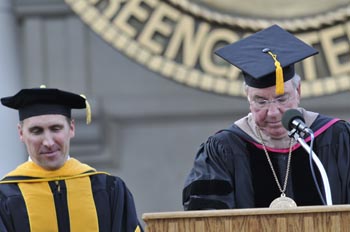 chair of the Board of Trustees, and as part of my duties, I served on the Presidential Search Committee. The fine work of my colleagues on that committee have brought us to this day and created a 'DePauw moment' that ranks among my favorites. In February -- after getting to know Dr. Brian Casey and seeing how our community responded to his energy and vision -- I had the privilege of informing him that he was the choice to be the University's 19th president. I have had been involved in many important and exciting things throughout my life, but this was special. I love this University, and I have tremendous confidence that this man is the person to lead us forward."
While there are nearly 4,000 institutions of higher education in America, only about 100 residential liberal arts colleges like DePauw, which President Casey called the "golden threads." and have become "not just good places, but necessary places." He told today's assembly,

[Download Video: "Liberal Arts Colleges" - 2539kb] "They thrive, I would argue, not because they're oppositional to research universities. They thrive because they are intentional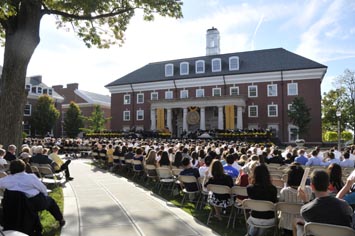 communities; they are communities of thinking and living together. Imagine a place in which a vibrant, challenging, knowledgeable and diverse conversation not only exists but its everywhere, including and involving an entire community, then you can see DePauw: the DePauw beneath the banners of this celebration. Our scale and our mission forces us to encounter one another at every turn. You cannot hide as a scholar, as a student or a citizen here. When you think here, you think among your classmates. And when you remove yourself, the community sees and feels that removal. The fabric is woven tight at DePauw, so any tear, any change affects the whole cloth. This is our great contribution; our striving in every way to lead a life of communal inquiry." [BONUS CLIP:

[Download Video: "Casey on Why We Love Colleges" - 1644kb]]
The new president asserted, "We must be focused on our core mission of education and community. DePauw's reputation will always rest fundamentally on its academic strength, which means the very soul of this University is placed appropriately and for all time in the hands of this faculty. It will be my job to make sure that as an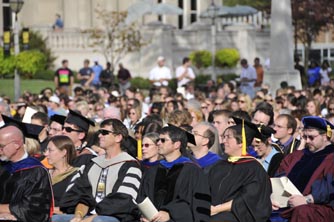 administration we focus our efforts on strengthening the faculty and supporting their work."
Casey also called upon the faculty to "invigorate our curriculum so that we ensure our students, and generations of students, that we are providing education that is energetic and relevant."
Diversity must remain a focus, the new president asserted, and DePauw must expand its worldwide reach and reputation. Casey also says he's committed to working with Greencastle to "revitalize our home," and that the administration must support and call attention to the value of the arts.
The president reminded his audience,

[Download Video: "Casey Cites Kingsolver" - 1404kb] "The writer and DePauw alumnus Barbara Kingsolver
once said, 'The very least you can do in your life is to figure out what you hope for; and the most you can do is live inside that hope -- not admire it from a distance, but live right in it, under its roof.' I come to work every day at DePauw now under the roof of this hopeful place. My history has brought me here to this marvelous place, and I am fully and completely and overwhelmingly grateful."
Access an MP3 file of President Casey's complete address here:

[Download Audio: "President Brian Casey's Inaugural Address" - 14,108kb].
Other speakers included student body president Matthew R. Jennings '09; Roni S. McMains, who represented the DePauw staff; Dave Berque on behalf of the faculty; Lisa Henderson Bennett '93, president of the DePauw Alumni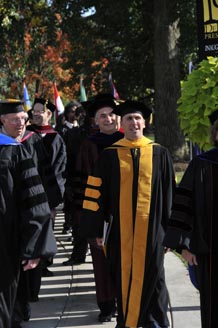 Association; and Greencastle Mayor Sue Murray. The program also included the reading of original poem by Joe Heithaus, associate professor of English, and music by the University Band and University Choirs and Exalt! DePauw Gospel Choir. Following the installation ceremony, a reception was held on East College lawn.
Today's event was webcast live.
This morning's Indianapolis Star provided a preview of today's ceremony. Learn more in this story.
Inaugural weekend continues tonight with a fireworks display and a concert by Third Eye Blind. Tomorrow's events include a presentation in the morning by John Baughman '48, professor emeritus of history, on the eighteen presidents who preceded Dr. Casey, as well as the Old Gold Day football game versus Birmingham-Southern.
A complete schedule of events is available at the inaugural Web page.
Back