Former VP Dan Quayle '69 Contributes to National Portrait Gallery Exhibition
November 29, 2008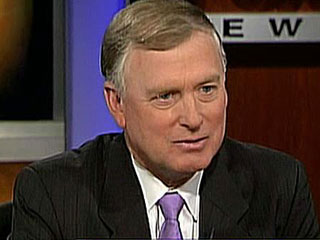 November 29, 2008, Greencastle, Ind. - Dan Quayle, the 44th vice president of the United States and 1969 graduate of DePauw University, will be featured in "Presidents in Waiting," an exhibition which will open at the National Portrait Gallery in Washington, D.C., on inauguration day 2009. "The show examines the vice presidencies of John Adams, Thomas Jefferson, Martin Van Buren, John Tyler, Millard Fillmore, Andrew Johnson, Chester Arthur, Theodore Roosevelt, Calvin Coolidge, Harry Truman, Lyndon Johnson, Richard Nixon, Gerald Ford and George H.W. Bush," reports Art Daily. "It includes video of interviews granted exclusively for the exhibition with former vice presidents Walter Mondale, Bush and Dan Quayle and the current vice president, Richard Cheney."
The exhibition "focuses on the office of the vice presidency and the individuals who first
served in that office and then later became president." It will remain on view through January 3, 2010.
"The role of the vice presidency has been debated throughout the history of our country," said Martin E. Sullivan, director of the National Portrait Gallery. "'Presidents in Waiting' is a show that will be of interest to all who love the lore and legends of political history."
Read more by clicking here.
A member of DePauw's Athletic Hall of Fame, Dan Quayle captained the Tiger golf team and was among the former players of Ted Katula who honored the retired coach at the November 12, 2005 announcement of a new endowed chair, the Theodore M. Katula Director of Athletics.
Learn more about Quayle in this recent story.
Back