Jessica Moore '04 Honored as 'Young Woman of Promise'
March 4, 2009
March 4, 2009, Greencastle, Ind. — Jessica L. (Daniel) Moore, immigrant outreach specialist for the Indianapolis-Marion County Public Library and 2004 graduate of DePauw University, is the recipient of the Young Woman of Promise Award from the Indiana Commission for Women. Moore was honored at last night's Torchbearer Awards gala in Indianapolis, notes today's Indianapolis Star.
Moore was among 18 Indiana women who were honored, and received one of six major awards. The honorees"have worked to improve services to the elderly, launch programs for immigrants and develop the talents of young people," writes Diana Penner.
In her position with the library system, Moore "works with refugees and designs programs to help immigrants better access library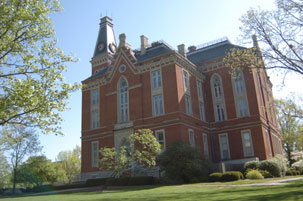 services," notes the newspaper. "She also has worked in the court system as an interpreter and served as a bilingual assistant in Indianapolis Public Schools."
Moore, writes Penner, "said some inequities still exist and it's a thrill to be recognized among women."
"I think it's good, and probably still needed, especially for younger women who are still coming up,'' Moore tells the reporter.
Read more at IndyStar.com.
Back