Brad Kelsheimer is New VP for Finance and Administration
March 31, 2009
March 31, 2009, Greencastle, Ind. - Brad A. Kelsheimer has been appointed vice president for finance and administration at DePauw University, effective July 1. Kelsheimer comes to his new post from Rose-Hulman Institute of Technology, where he has worked since August 2000 and is currently associate vice president for financial affairs. He will succeed Thomas A. Dixon, who is serving as DePauw's interim vice president for finance and administration through the end of the fiscal year.
"Brad is an experienced and well regarded senior financial administrator at a well-regarded academic institution. He has worked closely with faculty members as well as the financial community in service of Rose Hulman's mission," says the University's president, Brian W. Casey. "His ability to think strategically, along with his strong history of solid financial oversight, will serve our institution very well. I'm delighted to welcome Brad to DePauw University."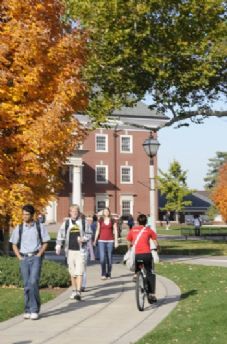 "I have been extraordinarily impressed with those members of the DePauw community that I've met, and I sense an energy on campus that is truly unique," notes Kelsheimer. "This is an exciting, transformational time for DePauw University. I feel very fortunate to be given an opportunity to serve with a team that has embraced such an engaging dialog on the future that is built so solidly on DePauw's exceptional traditions and history."
At Rose-Hulman, Kelsheimer developed an institution-wide "initiative database" and related processes for matching faculty interests with potential funding sources as well as a financial reporting package which provided timely, accurate and actionable date to campus leadership. Among his other accomplishments, he helped guide the Institute's board as Rose-Hulman Ventures -- which links students with technology-based companies -- was transformed from a grant-funded program into a financially sustainable operation. He also oversaw and closed more than 50 private equity transactions at RHV (developing and negotiating debt, investment and service contracts), resulting in returns which placed in the top 25% of all vintage 2000 venture funds. Kelsheimer also led efforts to secure federal funds and other grants, and created and implemented the concept for the Terre Haute Innovation Alliance, a federally-funded collaborative partnership with Indiana State University.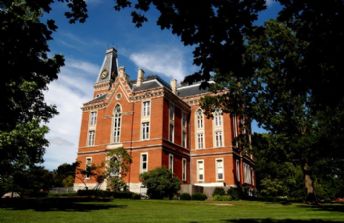 Brad Kelsheimer earned a B.S. with high honors in accounting from the University of Illinois, and has completed an M.S. in strategic management from Indiana University's Kelley School of Business, which he will be awarded in May.
He started his career at Price Waterhouse in Indianapolis in August 1990 as a staff/senior auditor, then moved to General Housewares Corp. in Terre Haute (1995-2000), where he served in several roles, including corporate controller and divisional chief financial officer. At Rose-Hulman Ventures, Kelsheimer was business operations manager (August 2000 - February 2003) and vice president for administration and business affairs (February 2003 - August 2005), and has been associate vice president for financial affairs for Rose-Hulman Institute of Technology since March 2005.
Tom Dixon (pictured at right) previously served as DePauw's chief financial officer from 1992 to 2000 and was named to fill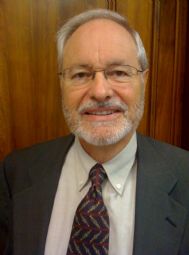 the position on an interim basis after Dick Speller retired in September.
"I can't say enough about the job Tom Dixon has done, nor can I sufficiently thank him for his profound service to DePauw University," says Dr. Casey. "Overseeing the finances of an institution is difficult enough under normal circumstances, and Tom Dixon has been a strong, steady and thoughtful force for DePauw as we've navigated through what has been a very chalenging period. He is a dear friend, and a friend of this Univeristy."
Today's appointment is also noted at Inside Indiana Business and by the Terre Haute Tribune-Star.
Last week, DePauw announced that its chief investment officer, Carla McGuire, is joining Hammond Associates, and will continue to serve as the University's CIO. Hammond. based in St. Louis, has been consulting the University on a portion of its investment portfolio since 2005. Learn more in this story.
Back