Three Faculty Members Receive University Professor Awards
April 7, 2009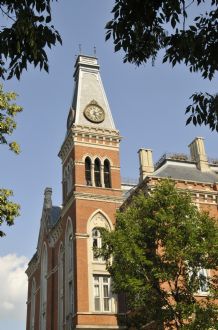 April 7, 2009, Greencastle, Ind. — DePauw University is proud to honor three members of its faculty for their long records of excellence in teaching, service to the University and broader communities, and accomplishments in their fields. The recipients of University Professor Awards for 2009-2013 are: Carl A. Huffman, Robert Stockwell Professor of Greek Languages and Literature and professor of classical studies; Randy K. Salman, professor of music; and M. Scott Wilkerson, professor of geosciences.
Beginning with the 1998-99 academic year, DePauw has recognized faculty members with University Professor and Distinguished Professor Awards. University Professor Awards recognize sustained excellence in teaching, service and professional accomplishments.
The Distinguished Professor Awards are given for sustained excellence in teaching and service; these may be awarded only once in a career.

None of the nominees this year submitted a dossier for review.
In the eleven years since the two awards were established, the accomplishments of 57 tenured faculty members have been recognized.
"Together, these three University Professors appointees add to the standing and stature of this most distinguished of the University's recognitions," says Neal B. Abraham, executive vice president, vice president for academic affairs and dean of the faculty at DePauw.
Nominees for these awards are invited to prepare dossiers similar to promotion dossiers which demonstrate sustained excellence
in the appropriate categories. Students and colleagues are invited to write letters on the contributions and accomplishments of the nominees who have prepared dossiers. Outside experts are invited to provide letters of reference on contributions that can be externally validated. An internal review committee reviews the dossiers and makes recommendations to the president for appointment of the recipients of these awards. This year, the review committee consisted of past University Professorship recipients Terri Bonebright and Joe Heithaus, Distinguished Professor Award recipient Mary Dixon, and Dean Abraham. The committee presented its recommendations to President Brian W. Casey and he endorsed those recommendations and made the corresponding appointments
Carl Huffman, former Edwin L. Minar Professor of Classical Studies (2003-08), joined DePauw's faculty in 1981 and reached the rank of professor in 1996. He has received two National Endowment for the Humanities Fellowships (1983-84 and 2002-03), a Guggenheim Fellowship (1995-6) and a Howard Foundation Fellowship (1989-09). He was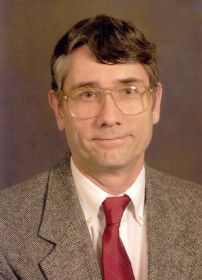 awarded a University Professorship for 2000-04. He is currently on leave at the Institute for Advanced Study in Princeton, New Jersey. Huffman has produced a second major monograph on a member of the Pythagorean School (Archytas of Tarentum: Pythagorean, Philosopher and Mathematician King, Cambridge University Press, Cambridge, 2005) since his previous University Professorship along with a myriad of chapters, articles and conference presentations. His external reviewers rate him one of the nation's top scholars. His teaching is notable for its rigor and challenge, and for how much his students love his teaching and their learning in his courses, from Greek and Latin, to introductory classical studies courses and honor scholar seminars. His service has been steady throughout his career (after 4 terms as department chair and leadership on many committees, including service as a member of the Committee on Faculty and Committee on Administration, both of which he chaired, and he guided major reforms such as the creation of the Faculty Governance Steering Committee, the proposals for reduction in the size of files for personnel reviews, studies of faculty workload, and the development of a workshop for new committee chairs to try to help streamline the management of faculty committees (to make them lest wasteful of time and less of a source of frustration to committee members).
Randy Salman joined the faculty at DePauw in 1979 and was appointed to the rank of professor in 1997. A nationally and internationally recognized performer
on both saxophone and clarinet, he's a member of several major touring groups, including the Smithsonian Jazz Masterworks Orchestra which played at the Pyramids in Egypt in February 2008. He is highly valued by his students as a teacher and mentor. Salman's students say his teaching is "always educational." He clearly hews to the goal in his teaching philosophy that "studio teaching is to help the student become his or her own best teacher." He almost single-handedly helped to create the jazz studies program at DePauw. The professor's scholarly and creative work also includes the scholarship of pedagogy exemplified in his critical reviews of instructional materials and various compact discs. His service also includes chairing the national search committee for a new dean of the School of Music several years ago. He approaches his career as a life-long learner, particularly notable is that he takes each sabbatical as a chance "to go back to school" in studying with experts at a major venue (such as his current sabbatical at the University of Illinois). His colleagues also deeply praise his work, particularly with the Jazz Ensemble and his own jazz groups. They also note his versatility over instruments and repertoire.
Scott Wilkerson joined the faculty at DePauw in 1995 and was appointed to the rank of professor in 2008. The committee found his file notable for the evidence of the rigor and passion of his teaching and his ability to listen to his students and to change his pedagogical strategies. He is organized, reflective and effectively connects his students to the subject matter and to new discoveries in
the field. He has developed new instruction materials using 3-D GIS and has prepared wonderful PowerPoint presentations for his classes. His work has led to invitations to co-author supplements for some of the leading geosciences textbooks; these publications have been widely praised. Wilkerson's students not only admire the rigor of his courses and the learning they engender, but they also report they are well prepared by his courses for graduate study. His service includes two terms as chair of the department, service on the Faculty Development Committee, and the Winter Term subcommittee, among others. He served for many years as a student marshal for commencement. He has developed and maintained plotting and computing facilities for his department and willingly shares his mastery of technologies with colleagues. The professor also developed the department newsletter in electronic (Web-based) format to share with all of the department's alumni. Beyond his instructional materials (scholarship of pedagogy) he has published a steady stream of highly regarded articles, which external reviewers find outstanding. One of the reviewers of a recent article he submitted for publication rated it as "one of the best articles ever; publish ASAP."
UNIVERSITY PROFESSORS
1999-2003 : Nancy Davis, Underwood Dudley, Wayne Glausser
2000-2004 : Arthur Evans, Carl Huffman, Robert Kingsley
2001-2005 : David Berque, David Newman, Paul Watt
2002-2006 : Thomas Chiarella, Mac Dixon-Fyle, Wade Hazel
2003-2007 : Nachimuthu Manickam, Ellen Maycock, Barbara Steinson
2004-2008 : Thomas Hall, Bruce Stinebrickner, Valarie Ziegler
2005-2009 : Yung-chen Chiang, Mary Kertzman, Mitchell Merback
2006-2010: Terri Bonebright, Vanessa Dickerson, Masha Belyavski-Frank
2007-2011: Meryl Altman, Cindy O'Dell, Daniel Shannon
2008-2012: Istvan Csicsery-Ronay, Jr., Joseph Heithaus, Glen Kuecker, Cleveland Johnson
2009-2013: Carl Huffman, Randy Salman, Scott Wilkerson
DISTINGUISHED PROFESSORS
1999-2001 : Cynthia Cornell, James Rambo, Andrea Sununu
2000-2002 : Gary Lemon, Charles Mays, Ralph Raymond
2001-2003 : Meryl Altman, Françoise Coulont-Henderson, Craig Paré
2002-2004 : Victor DeCarlo, Marcia McKelligan, Gloria Townsend
2003-2005 : Matthew Balensuela, Carla Edwards, John Schlotterbeck
2004-2006 : Page Cotton, Vergene Miller, Judith Raybern
2005-2007 : Robert Hershberger, Daniel Shannon, Jamie Stockton
2006-2008: Mary P. (English) Dixon, Caroline B. Smith, Barbara Whitehead
2007-2009: Bridget Gourley, Susan Hahn
Back