WWII Ace Pilot Alex Vraciu '41 Marks 65th Anniversary of Historic Battle
June 23, 2009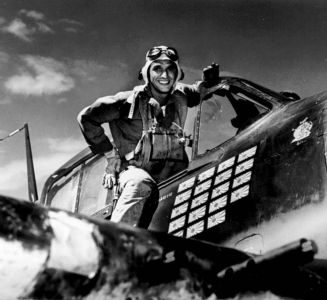 June 23, 2009, Greencastle, Ind. — "The U.S. Navy and its pilots fought one of the most decisive naval battles in World War II exactly 65 years ago, and one of the legendary American fighter pilot aces from that battle still lives in Northern California," begins a story on Alex Vraciu Jr. The legendary Navy pilot and 1941 graduate of DePauw University ended WWII as the Navy's fourth-ranking ace with 19 enemy aircraft shot down plus 21 more destroyed on the ground.
A story by Sacramento, California's CBS 13 marks the 65th anniversary of what is known as the "Marianas Turkey Shoot." On June 19, 1944, "Alex Vraciu was a pilot assigned to the U.S.S. Lexington aircraft carrier, which was en route to protect their fleet for an invasion of Saipan," notes the station. "Alex and his squadron of twelve F6F 'Hellcat' fighters were on standby, awaiting word that Japanese planes had been spotted."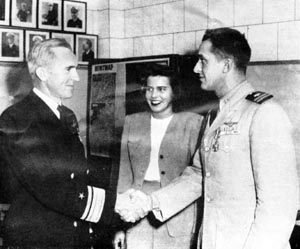 Vraciu, who retired as a commander of the Navy in 1963, lives in Danville, California. He recalls, "We were expecting a good 400 planes of theirs coming in. They said, 'Man your planes.'" (at right: Vraciu being awarded the Navy Cross in 1944)
The report goes on to recall the infamous confrontation. Read more at the station's Web site.
In 2006, Alex Vraciu was featured in an episode of the History Channel series Dogfights. Efforts continue to honor Vraciu with the Medal of Honor for his service to America. Read more in this previous article.
Back