Lt. Alex Vraciu '41 Awarded Navy Cross, Returns to Pacific War Front
November 11, 1944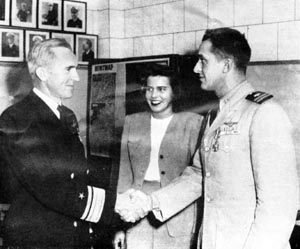 November 11,1944, Greencastle, Ind. - Lieutenant Alex Vraciu Jr., a 1941 graduate of DePauw University, has been awarded his sixth medal, the Navy Cross. Vraciu and his wife, Kathryn, were welcomed by Rear Admiral William K. Harrill, USN, Commander, Fleet Air, West Coast, at ceremonies at the U.S. Naval Station in San Diego, California.
Lt. Vraciu shot down 19 enemy planes during one year in the combat zones between Tarawa and the Eastern Philippines.
Eleventh Naval District officials say the Navy Cross was awarded for Vraciu's heroism during the "Mariana Turkey Shoot" near Saipan and in the Battle of the Eastern Philippines last June. During these battles, the lieutenant sent his Hellcat fighter plane low to sink a large Japanese transport with a skip-bombing attack. In addition, he escorted Navy dive and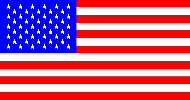 torpedo bombers in attack which resulted in the sinking of at least one enemy carrier. While near the Japanese fleet, he shot down one enemy plane and damaged another.
Vraciu's Navy Cross citation also commends him for pressing home attacks during the "Turkey Shoot" to knock down six enemy dive bombers attempting to hit Task Force 58 off Saipan June 19.
Lieutenant Vraciu previously had been awarded the Distinguished Flying Cross and a Gold Star in lieu of a second medal for shooting down three two-engine bombers during one strike over Kwajalein and for downing two Zeros near Truk.
He received the Air Medal and two Gold Stars for destroying one Zero in the air and two on the ground at Wake Island, for downing an enemy bomber over Tarawa, and for aiding three other fighters in sinking a Japanese tanker near Marcus Island.
In addition to the 19 planes Lt. Vraciu has shot out of the skies, he has destroyed 18 enemy aircraft on the ground. He has been forced down at sea twice, once by enemy flak over Truk and once by mechanical difficulties on the way to Palau. Destroyers rescued him both times.
One of the Navy's leading carrier pilots, Lt. Vraciu has joined a new squadron in the Pacific after returning to the United States for one month's leave. He is going back to the Pacific at his own request.
Back