"Why Not?," Asked Bill Rasmussen '54 When Launching ESPN
July 29, 2009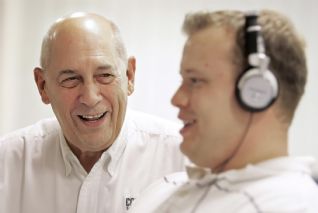 July 29, 2009, Greencastle, Ind. — "We just reacted as we went along," recalls ESPN founder Bill Rasmussen said of the sports network's early days. "Everybody thinks a business is well planned. You do this and that's going to happen. That wasn't the case at all. I mean we were the personification of don't let the facts get in your way. We didn't know all the facts, but we knew what the end goal was." (photo: Rasmussen with College Fanz Sports Network's Wade Tracy; courtesy: Barrett Stinson/Independent)
In a story in Nebraska's Grand Island Independent, Rasmussen, a 1954 graduate of DePauw University, tells of how he came up with the idea for ESPN in June 1978 after losing a job in sports marketing. Bob Hamar writes, "He was speaking with a local cable company when he heard about 'this new thing called satellite that's about to happen.' So Rasmussen bought a satellite, but didn't have a real idea of what to do with it. Then on that day in late June he was

stuck in traffic with his son, Scott [a 1986 DePauw graduate], when the idea of a 24-hour sports station was born."
ESPN began broadcasting on September 7, 1979. "He'll tell you about how they didn't even have a control room that opening night in 1979," reports Hamar. "They took a jackhammer to a new wall so they could run cables to a remote truck sitting outside just so they could get on the air. He'll tell you how his original thought was just to cover the Connecticut area, but when he found out that he could shoot the signal to the entire United States for the same cost, he went for it. He'll tell you about how the spot they chose -- part of a lot that was on the site of a former landfill that they bought for $18,000 -- just happened to be in the only possible spot to where their satellite signal
could get over the nearby foothills to the Litchfield Mountains. Their signal cleared by one-quarter of a degree ... The first ESPN program was a slow-pitch softball game between the Detroit Schlitz and the Kentucky Bourbon. It was sponsored by Budweiser. You just can't make this stuff up." (at left: Rasmussen addressing the Princeton Entrepreneurship Club, September 2008)
According to the newspaper, "The ESPN campus has grown from less than an acre in 1979 to over 100 acres today. Rasmussen's original small group of 80 employees has also grown to 6,000. Now ESPN can be seen in 200 countries and over 98 million households in the United States. ESPN has exploded in the past 10 years. Now there are not only the numerous ESPN television stations, but ESPN Radio has become entrenched in the psyche of American sports fans as well as the ESPN Web site and ESPN The Magazine. ESPN is everywhere. That's something Rasmussen couldn't have imagined 30 years ago.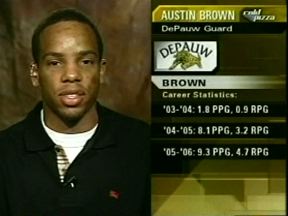 Rasmussen says, "Everybody just kept saying, 'No, you can't do that.' We just kept saying, 'Why not?'" (at right: Austin Brown '07 appearing on ESPN2's Cold Pizza; March 1, 2006)
The article also discusses Rasmussen's newest venture, College Fanz Sports Network.
Read the complete text -- "Rasmussen recalls how ESPN went from small start to big time" -- at the Independent's Web site.
Bill Rasmussen has been called the "George Washington of ESPN." Learn more about him in this previous story.
Back