Harvard Prof. Orlando Patterson to Keynote John Hope Franklin Colloquium, March 12-13
January 27, 2010
January 27, 2010, Greencastle, Ind. — The legacy of one the leading black intellectuals of the twentieth century will be analyzed and celebrated at DePauw on March 12 and 13 as the University presents a colloquium, "From Slavery to Freedom: John Hope Franklin and the Road Ahead." Orlando Patterson, John Cowles Professor of Sociology at Harvard University, will provide the event's keynote address. (at left: John Hope Franklin; below right: Orlando Patterson)
A historian, John Hope Franklin (1915-2009) described, analyzed, and theorized the history of African-Americans in the United States and the New World. In particular he raised the fundamental question concerning how some people treat others in bold contradiction to the proposed ideas central to the nature of the American constitution. The theme of freedom was at the center of his life and work.
Franklin, James B. Duke Professor Emeritus of History at Duke University, died on March 26, 2009. His From Slavery to Freedom: A History of African-Americans (1947) is still considered the definitive text of the black experience in America. Dr. Franklin worked on the 1954 Brown v. Board of Education case, joined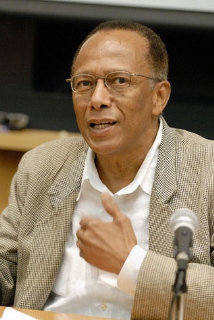 protesters in a 1965 march led by Dr. Martin Luther King, Jr., in Montgomery, Alabama, and headed President Bill Clinton's 1997 National Advisory Board on Race. Dr. Franklin received over 130 honorary degrees, served as president of the Phi Beta Kappa Society, the American Studies Association, the Southern Historical Association, the Organization of American Historians, the American Historical Association, and was a life member of the Association for the Study of African American Life and History (ASALH).
Professor Patterson's keynote address, "John Hope Franklin, Slavery and the Future of Race in America," will take place on Friday, March 12, at 7 p.m. in Meharry Hall of historic East College. His books include Slavery and Social Death: A Comparative Study; Freedom in the Making of Western Culture (a 1991 National Book Award winner for non-fiction); and Rituals of Blood: Consequences of Slavery in Two American Centuries. Patterson's columns have appeared in the New York Times, TIME, and the Washington Post. He was a founding member of Cultural Survival, one of the leading advocacy groups for the rights of indigenous peoples, and was for several years a board member of Freedom House, a major civic organization for the promotion of freedom and democracy around the world. Dr. Patterson will be available to sign copies of his works after his speech, which is free and open to all.
On Saturday, March 13, a plenary session will take place at DePauw's Janet Prindle Institute for Ethics from 9 a.m. to noon. It will examine "Race and the Future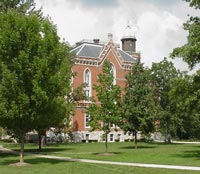 of the American Classroom." The session will begin with continental breakfast at 9, followed by the plenary a half-hour later.
The colloquium is presented by DePauw's black studies program as well as the Prindle Institute, Office of the President, and the Office for Multicultural and Community Life.
For further information, contact Leslie R. James, associate professor of religion and director of black studies at DePauw via e-mail at ljames@depauw.edu or by calling (765) 658-4887.
Back