Brad Stevens '99 Guides Butler to NCAA's Final Four
March 28, 2010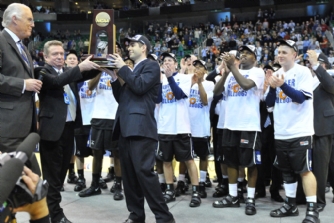 March 28, 2010, Greencastle, Ind. — "Restrained and corporate-looking as he is, Brad Stevens finally let his guard down," begins a story featured on the front page of this morning's Indianapolis Star. "On the bus ride home from the airport a week ago, Butler's basketball team passed Lucas Oil Stadium. Wouldn't it be something, the coach told wife Tracy, if the Bulldogs played there in the Final Four?" After defeating Kansas State yesterday, 63-56, Butler advances to the Final Four, which will be played in Indianapolis. (at left: Stevens receives the trophy after the Bulldogs won the West region final last night)
Brad Stevens and his wife, the former Tracy Wilhelmy, are both 1999 graduates of DePauw University.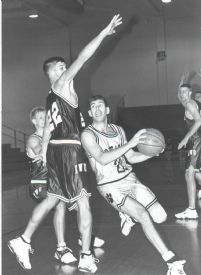 Thinking back upon the aforementioned bus ride, Brad Stevens tells the Star, "That was the first time I even thought about it." David Woods writes, "Now, that's almost all anyone in Indianapolis will be thinking about." (at right: Stevens in action for DePauw)
A USA Today piece on last night's post-game celebration notes that Stevens is "a former star guard at DePauw University in Greencastle, Ind."
Coverage of Stevens and the Bulldogs storybook season also appears in today's New York Times along with hundreds of other publications.
An economics major and Management Fellow at DePauw, where he played under coach Bill Fenlon, Brad Stevens took a marketing job with Eli Lilly & Co. after graduating. But his heart wasn't in it, and he left a promising career at the pharmaceutical company for a volunteer coaching position. He eventually became an assistant basketball coach at Butler and was named head coach on April 5, 2007.
"There's something to be said about a guy who turns down a lucrative deal at Eli Lilly less than a year into it in order to chase a dream of coaching," writes Paul Gable in Indiana's Shelbyville News, in a piece which notes that Stevens was all-conference and academic all-conference as a Tiger. "Stevens admits he was ready to go wait tables at Applebee's if he couldn't get into coaching. This guy had a dream and there wasn't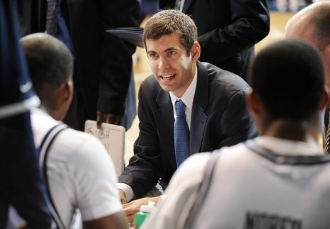 anyone or anything that was going to get in his way."
Stevens is 88-14 since taking over the Bulldog program and has been honored as Horizon League "Coach of the Year" for two consecutive seasons. Yesterday's victory marked Butler's 24th in a row.
A January 2008 article described Brad Stevens as "the model of a student-athlete." In November 2009, Stevens told the Star that his DePauw experience taught him to "think creatively." Read more here.
Butler and DePauw met in an exhibition game on November 1, 2009. Video highlights can be seen here:

[Download Video: "DePauw-Butler Highlights" - 9004kb] with details in this story.
Back