Coach Brad Stevens '99 Signs 12-Year Contract to Remain at Butler University
April 9, 2010
Also: Coach Brad Stevens '99 Speaks at DePauw Tuesday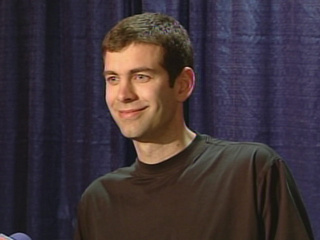 April 9, 2010, Greencastle, Ind. — "Any time you have the security of extra years in the contract, I think it's something that all coaches love to have," Brad Stevens, head men's basketball coach at Butler University and 1999 graduate of DePauw University, said at an Indianapolis news conference this morning. Stevens answered questions from reporters after the Bulldogs announced he had agreed to a new, 12-year contract to continue coaching the team. (top photo: Stevens addresses reporters this morning; courtesy WISH)
"It was something the university came up with," Stevens said of the contract extension. "I'm tickled to think they would want to do that."
Read more at the Web site of the Indianapolis Star.
Since Stevens led his team to within an eyelash of a national championship earlier this week, there has been
much speculation about his coaching future and rampant rumors that he would be the top candidate for jobs at larger institutions.
"We had our eye on (Stevens) for a long time,'' Pat Kilkenny, former athletic director at the University of Oregon, who is leading the Ducks' search for a new head basketball coach. Kilkenny tells the Indianapolis Star's Bob Kravitz that Stevens was their choice to take over the program. "It's disappointing, but I understand. Butler is keeping a very special young coach.''
Read more here.
Brad Stevens, who was an economics major and Management Fellow at DePauw, will return to the Greencastle campus next Tuesday, April 13, to deliver an 11:30 a.m. lecture, which is free and open to the public. Complete details can be found in this story.
Back