Coach Brad Stevens '99 Returning to Campus for Lecture Next Tuesday
April 6, 2010
April 6, 2010, Greencastle, Ind. — Brad Stevens, the 1999 DePauw University graduate who led Butler University's men's basketball program to an historic season which culminated in last night's national championship game, will return to his alma mater for a speech next Tuesday, April 13. Stevens, who was an economics major and Management Fellow at DePauw, will address current students in the Management Fellows program as well as the broader University audience at 11:30 a.m. in the Green Center for the Performing Arts (605 S. College Avenue), Kresge Auditorium. The Robert C. McDermond Lecture is presented with support from the Timothy and Sharon Ubben Lecture Series and is free and open to the public. (top photo: Sam Riche/Indianapolis Star)
Seating will be first-come, first-served. No tickets will be
distributed.
"Brad Stevens personifies the 'uncommon success' that DePauw graduates are noted for, and his career is proof that there is great value in following your heart and pursuing your deepest dreams," says Gary Lemon, director of the Management Fellows program and professor of economics. "The nation has heard the story of how he left the lucrative marketing job he received after he graduated from DePauw and decided to follow his heart and become a coach, starting as a volunteer assistant. I'm thrilled that Brad is returning to share his insights with our students." (at right: Stevens as a DePauw undergraduate)
Dr. Lemon asked Stevens to speak in August 2009 when few could have imagined that his "big dance" card would be so full. The coach's DePauw lecture will come just eight days after his Bulldog team took Duke University to the wire, losing 61-59 when Gordon Hayward's half-court 3-point buzzer-beater for the win barely missed. Butler would have been the smallest college by enrollment to win the national title since 1947,
when Holy Cross took the championship.
"We just came up a bounce short," Stevens said after the game. "Can it get better than these guys? They came one shot away from the national championship."
Stevens earned all-conference and academic all-conference honors as a basketball player at DePauw, where he was a Management Fellow and earned an economics degree. After graduation, he took a job as a marketing associate at Eli Lilly and Company and, in his spare time, served as a volunteer basketball coach at Carmel High School. In 2000, Stevens realized his real love was the hardwoods and not the office tower, and left his job for a volunteer position at Butler. Soon after, he was named the Bulldogs' coordinator of basketball operations, and a year later was tapped as an assistant basketball coach. On April 5, 2007, he was named -- at age 30 -- to lead the Division I men's basketball program.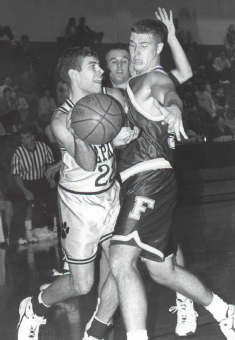 Stevens "made the transition look easy," Stephen Beaven wrote in the January 5, 2008 New York Times. "Stevens learned a valuable lesson in his brief time at Eli Lilly. A veteran in management pulled him aside one day and told him not to worry about working his way to the top and to focus instead on doing a good job, day in and day out. That's the approach he took when he quit the pharmaceutical business and accepted a job as a volunteer in the basketball office at Butler in June of 2000."
Now 33, Stevens recalls, "It was great advice. Because you've got a lot of people always looking for the next step. And that's not what I was doing. I was just trying to figure out a way to win the next game and think like a head coach."
In his first season leading Butler, Stevens compiled a school- and Horizon League-record 30-4 mark and followed that with a 26-6 mark, despite graduating five seniors, having just one returning starter, and relying on freshman in key roles. This year's Bulldogs wound up 33-5 and took a 25 game winning streak into the title contest. All of Stevens' Butler squads have advanced to the NCAA Division I tournament and he has been named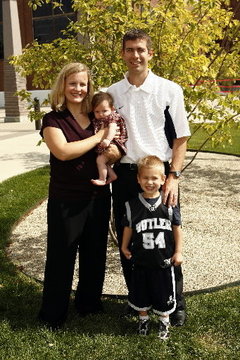 Horizon League Coach of the Year in each of the past two seasons. His overall record is 89-15; no other NCAA Division I coach has won more games in his first three seasons.
In a January 2008 column, the Star's Kravitz wrote, "The hero in the Brad Stevens story isn't, as you would imagine, Brad Stevens -- not entirely, anyway. While it's true that he kicked aside a well-paying job at Lilly to pursue his hoops dream, the person who made it possible was Tracy [Wilhelmy] Stevens ['99]. When the two were dating, Brad told her he was quitting this stable job to volunteer in a college basketball program. Fine, she said, follow your heart, but I'm going to law school. Someone has to bring home a regular paycheck. 'Whether she sent me on that path or I sent her on that path, it worked out great for both of us because we got to follow our dreams,' Stevens said. 'We just had to take the time to do it.'" (photo: Tracy and Brad Stevens with their children, daughter Kinsley and son Brady)
Established as an honors program in 1980, the Management Fellows Program is open to students in any major who are interested in pursuing careers in the for-profit and not-for-profit sectors. In addition to completing coursework and a major in the liberal arts, Management Fellows complete a semester-long, paid internship in top national and international settings. Management Fellows graduates have gone on to distinguished careers in top companies and organizations throughout the country and world. They also have been accepted for graduate and professional study at some of the nation's most prestigious institutions, including Harvard,
Stanford, Northwestern, University of Chicago, University of Pennsylvania, Dartmouth, University of Michigan and M.I.T. Learn more here.
Established in 1986 through the generous support of 1958 DePauw graduates Timothy H. and Sharon Williams Ubben, the Ubben Lecture Series was designed to "bring the world to Greencastle" and presents events which are available for students, faculty, staff, alumni and the local community to enjoy. Howard Dean, Karl Rove, Steven Levitt and Jason Reitman have been this academic year's Ubben Lecturers, and former South African President and Nobel laureate F.W. de Klerk will speak on May 5.
On September 12, 2002, Duke's Mike Krzyzewski -- who was Stevens' counterpart in last night's nationally-televised game -- came to DePauw as an Ubben Lecturer.
To view a complete roster of Ubben Lecturers -- which includes links to video clips and news stories -- click here.
Back