Tim Solso '69, Bill Gates and Other Leaders Call for More Clean Energy Funding
June 10, 2010
June 10, 2010, Greencastle, Ind. — "The CEO of Indiana diesel manufacturer Cummins teamed up with Microsoft founder Bill Gates and other business executives Thursday to call for the federal government to triple the amount of money it spends each year on clean energy research and development," begins a story by Gannett's Tristan Hallman. "At a Washington news conference Thursday, Cummins chief Tim Solso and the other executives who formed the American Energy Innovation Council called for a comprehensive energy policy coordinated between the federal government and private industry to develop new technologies."
According to Solso, a 1969 graduate of DePauw University, "What we are saying is that we want to make enough money there to create innovation so the specialists and the scientists can work in each one of those areas and then see what comes out as a winning formula."
The article notes, "Solso and the council were in town to meet with President Barack Obama and congressional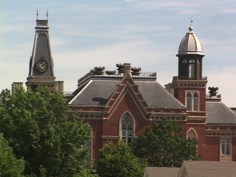 leaders at a time when energy concerns, such as the BP oil spill in the Gulf and climate-change legislation, are on the front burner."
Access the full text at the Web site of the Indianapolis Star.
Barron's magazine recently listed Theodore M. "Tim" Solso, a former member of DePauw's Board of Trustees, as one of America's "30 Most Respected CEOs." He was at the White House last month as President Obama signed a measure setting mileage and pollution limits for big trucks. Read more here.
Back