DePauw Study on 'Up Three: To Foul Or Not To Foul' is Subject of Sports Illustrated Piece
October 1, 2010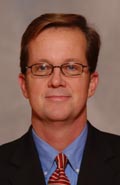 October 1, 2010, Greencastle, Ind. — When does it make sense for a team to intentionally commit a foul when up by three points late in a basketball game? DePauw University's head men's basketball coach, Bill Fenlon (pictured at left), studied that question with the assistance of Mark Kannowski, professor of mathematics. The report (accessible here) is the subject of a lengthy Sports Illustrated article which examines the genesis of the study, its findings, and how they factored in Butler University's NCAA tournament run in the spring.
On April 4 in their Final Four game with Michigan State, Butler led 52-49 with 6.1 seconds left in the game. Michigan State was inbounding. Should the Bulldogs foul?

"In the sea of end zone seats behind Michigan State's basket was someone more adamant than Kellogg about what Butler should do," writes SI's Luke Winn. "Bill Fenlon, the head coach of Division III DePauw, was sitting what felt like a mile away from the court -- probably farther away than was appropriate for someone who counted Stevens as a former player and Bulldogs assistant Micah Shrewsberry as a former assistant. But Fenlon had deliberately refrained from groveling for
tickets that week. He knew his former acolytes' lives were already at an unprecedented level of craziness, so he took his National Association of Basketball Coaches-issued tickets and their bad vantage point. His view had no effect on his degree of certainty. This is the perfect situation, he thought. This was his pet situation. He'd written a paper about it. He'd given the paper to Stevens years ago. In Fenlon's circle of coaching friends he was the Evangelist of Fouling Up-Three Under Seven Seconds. He hoped Stevens was on the same wavelength, thinking the same thing: You HAVE to foul here."

Stevens followed the advice of his college coach and had his team foul with 2.1 seconds left on the clock. The Bulldogs advanced to the national championship game. After the buzzer sounded, Winn reports, "Fenlon took out his phone and texted to Stevens, 'You finally listened!' Stevens can't remember exactly what he wrote back. It might have been something about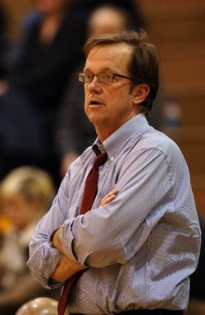 finally being coachable after 33 years, but it also likely included an admission of relief that the rebound bounced the way it did. It certainly did not include a guarantee that he'd always foul in the future. If Stevens ever makes that decision, he'll keep it to himself, anyway; he likes to play it close to the vest."

Fenlon's work, notes the column, resulted in "a 2,728-word paper he titled, 'Up Three: To Foul Or Not To Foul,' at the bottom of which Kannowski is credited for the math and Esquire writer-at-large Tom Chiarella, a visiting professor at DePauw, is thanked for the editing. The paper's conclusion is that coaches should always foul, trusting the aforementioned odds (4.9 percent chance of overtime by fouling, 19 percent chance of overtime by hunkering) and ignoring any other factors."

The article also references research on numerology by Underwood "Woody" Dudley, professor emeritus of mathematics at DePauw.
The complete piece -- "Up Three, Under Seven: The most hotly debated endgame scenario" -- can be found at SI.com.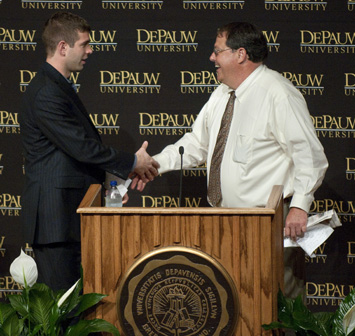 In his April 13, 2010 Robert C. McDermond Lecture at DePauw, Brad Stevens, a 1999 graduate of the University, referenced the Michigan State game and the research conducted by Fenlon and Kannowski, and what his college coach relayed after the contest was decided. "The best text message I received -- and I've received probably 200 after every NCAA tournament win -- was, 'You finally listened at age 33,'" Stevens said to laughter from the audience.
In June, a half-hour program on FOX Sports Midwest focused on Stevens' success at Butler and included comments from Fenlon.
Back