Football Tigers Improve to 9-0 with SCAC Triumph Over Austin
November 6, 2010
Pre-Order Your 2010 Monon Bell Classic DVD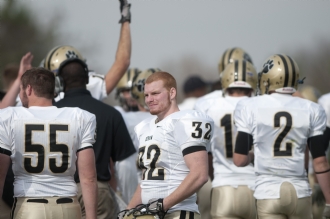 November 6, 2010, Greencastle, Ind. — A season of historic firsts for the DePauw University football team continued to rewrite the record books, as the Tigers downed Austin College, 30-20, at Blackstock Stadium this afternoon. The win lifts DePauw to 9-0 for the first time in the program's 123 season history, and the playoff-bound Southern Collegiate Athletic Conference champions finish 6-0 in conference play. Austin falls to 4-4 overall and 2-3 in the SCAC.
Today marked the final home game for DePauw's 30 seniors -- the largest senior class in the football program's history, and also the group that set a new record for wins (32) over four years.
The Tigers missed an early field goal attempt, but Eric Malm was good from 29 yards out with 4:53 left in the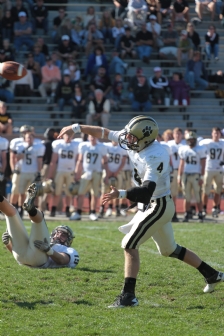 first quarter, giving the home team a 3-0 advantage.
Austin took a 7-3 lead after quarterback Travis Zambiasi ran the ball 26 yards for a touchdown.
With 8:33 remaining in the second quarter, DePauw quarterback Michael Engle hit Nathan Evans with a 5 yard scoring pass and the Tigers reclaimed the lead, 10-7.
The tally knotted at 10 with 3:39 before the break when Austin's Mitch Anderson kicked a 21 yard field goal.
With 1:09 to go until halftime, a 6 yard touchdown run by Derrick Karazsia put DePauw back in front, but the extra point was no good, making the score 16-10 Tigers at the intermission.
The clock showed 8:37 remaining in the third quarter when Anderson connected on another field goal, this time from 20 yards out, bringing Austin to within three points.
With 2:53 to go in the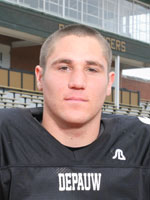 third, Engle hit All-American Alex Koors with a 9 yard touchdown pass. It marked Koors' 41st career TD pass, tying the all-time DePauw and SCAC record held by Dan Ryan '03, and the black and gold jumped out to a 23-13 advantage.
Engle and Brayden Dahlstrom connected on a 9 yard strike for score with 10:13 left in the game, bumping the lead to 17 points.
But Austin struck quickly, with Brogan Funderburg scoring from 4 yards out with 8:47 remaining.
Engle completed 26-of-40 passes for 303 yards with the three TDs and one interception, marking his sixth game of 300+ yards this season. Koors was again his top target,with 8 receptions for 117 yards and the touchdown. Dahlstrom, a fellow senior, had 7 grabs for 80 yards and a score. Karazsia (pictured at left) had a career-best day running the football, with 133 yards on 25 carries (5.3 per run). The Tiger offense
collected 454 total yards on the afternoon.
Next up for DePauw is the traditional final regular season game, the 117th Monon Bell Classic versus Wabash College in Crawfordsville. Some tickets remain for the game with the 7-2 Little Giants, which will be seen nationally on HDNet.
Pre-orders are now being accepted for the 2010 Monon Bell DVD. Learn more here. DVDs of 2001-09 Monon Bell Classics are still available in limited quantities. An online order form can be accessed by clicking here.
For more information on today's game and the Tiger football program, click here.
Alex Koors are his teammates were also featured in today's Indianapolis Star.
Back