436 Graduates Hear From Bestselling Author John Jakes '53
May 20, 1995
Also:

[Download Video: "Commencement Speech by John Jakes '53" - 24,911kb]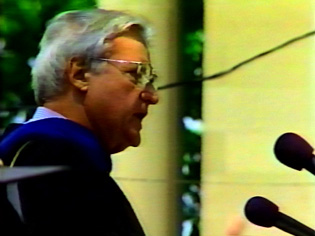 May 20, 1995, Greencastle, Ind. — "DePauw's goal, it seems to me, is to provide the best possible four year liberal arts education, but also an awareness of how much more there is to learn," bestselling author John Jakes said at today's 156th commencement. Jakes, a 1953 graduate of DePauw University, delivered the principal address at today's ceremony, which took place on the lawn outside historic East College. A total of 436 students received degrees.
Jakes, whose works include The Kent Family Chronicles, the North and South trilogy, California Gold and Homeland, has been called "America's history teacher." He became the first author ever to have three books on the New York Times bestseller list in a single year.
"To put it in terms of the science fiction I wrote for so many years, a college education ought to land you on the moon but leave you passionately determined to reach the far planets or even the limitless galaxies beyond, even though you know that you couldn't possibly get there in 20 lifetimes," Jakes said today.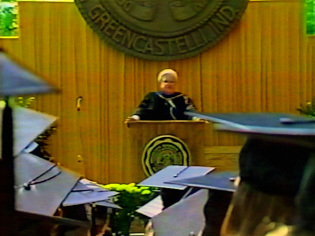 "DePauw doesn't turn out narrowly trained technical specialists like so many Pentium chips, one after another."
The author told the graduates, "The world needs smart people like you. It needs your mind along with your heart. Indeed I go so far as to assert that the degree you receive today confers a special responsibility, a duty. As an educated man or woman you have to know more all your life so you can do more that's enlightened and moral, that's beneficial for your family, your community, your future employers, your country and the increasingly complex world in which we all live together. The idea is encompassed by the liberal arts at DePauw, were for you and are for everyone, a wonderful starting point."
The audience also heard from senior Chad C. Meyer, recipient of the Walker Cup, who stressed the importance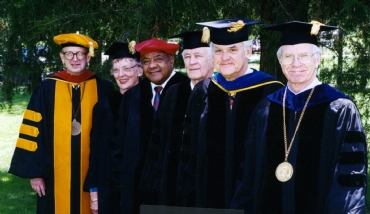 of the Class of 1995 making a difference in their communities, calling service "an obligation."
The University presented honorary doctoral degrees to: Robert V. Copeland '37, Doctor of Humane Letters; Tetsuya Endo, who earned a master's degree at DePauw in 1960, Doctor of Laws; Carl T. Rowan, Doctor of Journalism; Nancy S. Schaenen '51, Doctor of Public Service; John B. Stephenson, Doctor of Humanities (posthumously).
Two retiring faculty members were recognized at the ceremony: James F. Elrod, professor of communication arts and sciences, and James L. Cooper, professor of history.
Back