Columbian Boulder Arrives On Campus
June 8, 1892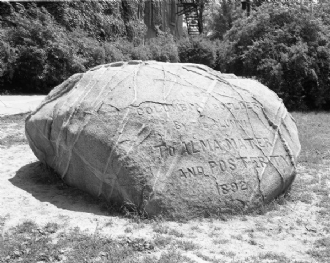 June 8, 1892, Greencastle, Ind. — A large boulder was today brought to the DePauw University campus -- arriving by train and horse-drawn wagon. "The granite rock with prominent ridges of quartz dykes was discovered near Morton about 12 miles northeast of Greencastle," according to DePauw: A Pictorial History. "Hiram Thomas moved it to his farm, fenced it in and charged visitors 10 cents apiece to view the 'petrified turtle.' It was purchased by a few alumni and brought to Greencastle by a 26-horse house-moving wagon and the Monon Railroad."
At the suggestion of Professor John Clark Ridpath, the boulder commemorates the 400th anniversary of Columbus' first voyage to the New World.
Over the years, the rock -- which came to be known as the "Columbian Boulder" -- became a favorite meeting place on campus for couples meeting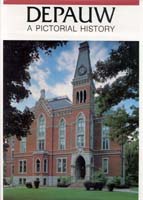 for chapel dates and honorary societies holding initiation rituals.
Read more here.
DePauw: A Pictorial History was written by emeritus professors of history Clifton Phillips and John Baughman, with assistance from history professors Harold Spicer and John Schlotterbeck and Wesley Wilson, coordinator of DePauw University's Archives.
The text and accompanying photos and illustrations, first published in 1987, can be found online by clicking here.
Back