Alumni Gather to Celebrate Lifelong Success and Friendships at DePauw's Reunion Weekend
June 11, 2011
Also: Photo Gallery 1, 2, 3, 4, 5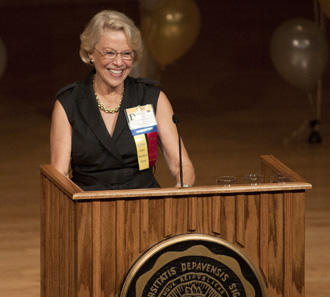 June 11, 2011, Greencastle, Ind. — "As our University begins its 175th year, its message to the world relates to each of us gathered here today," Marletta Farrier Darnall told fellow members of DePauw University's Class of 1961, who are celebrating their 50th reunion this weekend.
"My college experience enriched the values I learned growing up, broadened my vision for the future, increased my desire to do well in all endeavors, and provided the framework for life-directing decisions,"added Darnall, a former junior high school teacher who currently serves a number of organizations, including as a member of the Guild of the Chicago Historical Society, a governing member of the Chicago Symphony Orchestra and Brookfield Zoo, and DePauw's Board of Trustees.
She concluded, "At DePauw University, intellectual challenge and a vibrant social experience combine to produce lifelong success. Here's to you, Class of 1961."

[Download Audio: "Complete Speech by Marletta Darnall '61" - 10,512kb; Video on YouTube]
The golden anniversary class was greeted by boisterous applause as its members, carrying black and gold balloons, marched into Kresge Auditorium at this morning's Alumni Reunion Celebration. The traditional convocation is part of DePauw's 2011 Alumni Reunion Weekend, which began Wednesday and continues through tomorrow.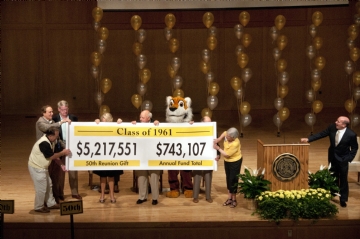 The Class of 1961 presented DePauw with a 50th reunion gift totaling more than $5.2 million, including $743,107 committed to the Annual Fund this year.

[Download Video: "Class of 1961 Presents Gift" - 4733kb]
DePauw's Class of 1986, back for their 25th reunion, heard from Blake T. Myers, senior managing director for Amherst Securities Group, a fixed income trading firm. On DePauw's campus of 2,400 students and in classes averaging 12 students each, "We were forced to come out of our shells and be a part of it," he recalled. "And what this ultimately led to was the forming of close relationships. In fact, we developed an aptitude for close relationships that carries with us to this day."
Myers told his silver anniversary classmates, who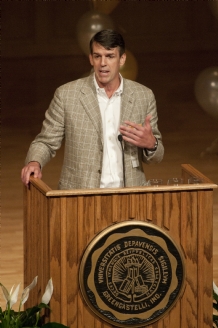 proceeded into the auditorium to the strains of the 80's hit Walking On Sunshine, "It was the pursuit of education that brought us to DePauw 29 years ago. It was the attainment of that education and the countless fortifying experiences we shared here that gave us the foundation to go out into the world and become the individuals we are today. It is this, combined with the strength of the relationships formed here, that sustains our bond to DePauw University, and it is the chance to be with each other again that brings us back today."

[Download Audio: "Complete Address by Blake Myers '86" - 7841kb; Video on YouTube]
"It always is so nice to be back in this town, in this place, but it's really a lot better when I'm here with the people I spent four amazing years with," said Mike Stanek, an attorney with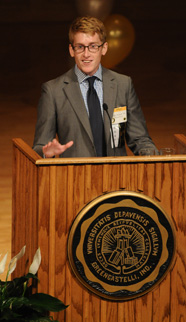 McDermott Will & Emery LLP in Washington, D.C., who spoke on behalf of his Class of 2006.
Stanek, who serves on DePauw's Alumni Board, spoke of "the intangibles -- the character, the community, and the warmth that come from this place and the people it has touched."

[Download Audio: "Full Remarks by Mike Stanek '06" - 5204kb; Video on YouTube]
In welcoming alumni back to DePauw, President Brian Casey recalled the story of the University's first out-of-town student, Thomas Goodwin, who traveled four days by stagecoach, wagon and on horseback to reach Greencastle in 1837. "Dear alumni, you are Tommy Goodwin. You are the realization of this University's hopes. You are the 174-year history of this University. You are the echoes of this school."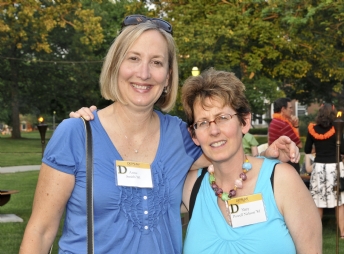 Dr. Casey recalled, "Three years ago, when I was inaugurated to this wonderful position, I said that the world needs DePauw, and I believe that more firmly today than I did on that hopeful, early day. There are few places that do what we do. There are simply no colleges of our kind that produce, in the numbers that we do, the type of leaders that have long been the mark of our alumni ranks."
"I am a big believer in energy, and I think that the great colleges and universities have a sense of energy about them, a sense of urgency, and a sense of pride. You are gathered here this morning on a campus on a particular moment in its history -- a moment when energy and pride has a chance to come together with the knowledge of what has always made this place great."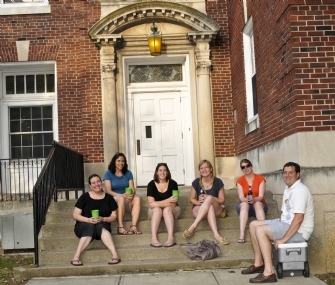 The president promised, "Over the next few years you will see this University strengthen its curriculum, strengthen its faculty, improve its campus, create new ways to connect students to the world." Casey called DePauw's undergraduates "connecting, engaged students who go and change the world."

[Download Audio: "President Casey's Complete Speech" - 11,110kb ; Video on YouTube]
Alumni Reunion Weekend 2011 continues through tomorrow, with Alumni College sessions and other events this afternoon and class dinners tonight. Available online is a complete schedule of events for the weekend.
Back