J. Nichols '89 Recalls Powerful DePauw Experience in Huffington Post Column
September 6, 2011
September 5, 2011, Greencastle, Ind. — "Twenty-five years ago, when I was a 19-year-old college sophomore at DePauw University in Greencastle, Indiana, I met a woman named Barbara," Wallace J. Nichols writes in a Huffington Post column. "She was living in a nursing home. Fifteen years prior, when she was my age, she was in a serious car crash that landed her in a coma for two and a half months and resulted in the loss of most memories. The 15 years following the accident had been spent relearning the world from the beginning, as a child would."
Nichols recalls, "My role in Barbara's recovery was to spend an hour or so with her each week playing the guitar. When she was a college student she was an avid guitar player with a vast repertoire of country and folk tunes. So those were the songs we played together each week."
Now an ocean researcher noted for his work on sea turtles, Dr. Nichols adds, "as a young student of biology, I was also fascinated with Barbara's mind. In 1987, the field of neuroscience was primordial, compared to where we are today and where things are headed in the future. How memories are formed, stored, lost and retrieved was a mystery -- it still is, in many ways. New neuroscience research is providing insights into music, emotions and nostalgia, how and when we form our deepest and most enduring connections to songs.
"I've never stopped wondering about Barbara's brain, the human brain, my brain. Now I've turned my focus to how our brain interacts with the ocean, the single biggest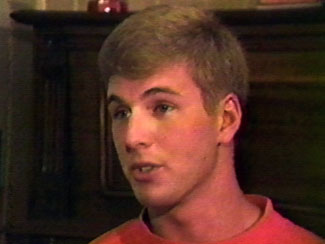 feature of our blue planet. And what we've begun to learn is fascinating and potentially revolutionary."
Read more by clicking here.
J. Nichols' work with Barbara was the subject of a 1987 TV news report, summarized in this story.
Nichols, who goes by his middle initial, is responsible for pioneering research on the migration of sea turtles. His work has been featured in National Geographic, Scientific American, TIME and Newsweek, and he was seen in Leonardo DiCaprio's documentary, The 11th Hour. He regularly returns to DePauw and delivered the principal address to the University's Class of 2010, "You Are Lovers and Fighters."
Back