DePauw-Evansville Exhibition Will Mark Debut of 10,000 Seat Ford Center
October 24, 2011
October 24, 2011, Greencastle, Ind. — "Marty Simmons and Rich Kromm are excited about the new home they'll soon be sharing," begins an Evansville Courier & Press story. "Technically, Simmons and his University of Evansville men's basketball team will play the first sporting events inside Ford Center when the Aces host DePauw in an exhibition game Saturday. But in terms of regular-season action, Kromm and his Evansville IceMen will have the honor of opening the new Downtown arena on Nov. 5 against the Fort Wayne Komets in Central Hockey League action." (photo: Erin McCracken/Courier & Press)
The Ford Center seats 10,000 fans for basketball.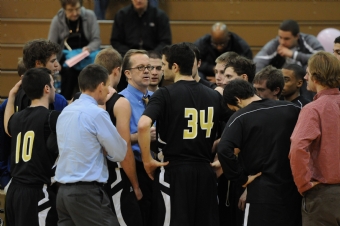 "Obviously, we're all very excited about it," Simmons says of the new stadium. "I think the whole city of Evansville, when people have an opportunity to actually go inside, are going to be impressed. It's going to be a great thing, not just for the University of Evansville, but for the community."
Read more at the newspaper's website.
Last October 30, the Division III Tigers shocked Division I Evansville, defeating the Purple Aces 66-62 in a preseason exhibition game at Roberts Stadium. A second article on that contest is available here.
For more information visit the men's basketball team's official online page.
Back