Prof. Joseph Heithaus Publishes Poison Sonnets
February 15, 2012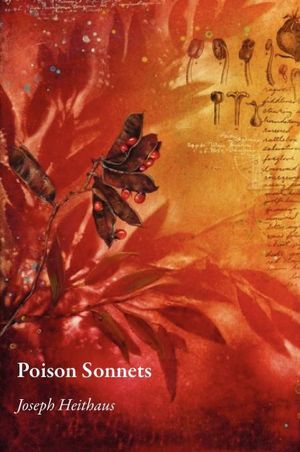 Poison Sonnets, a collection of poems by Joseph Heithaus, University Professor and professor of English at DePauw University, has been published by David Robert Books. (book cover: Lynda Lowe; photo of Joe Heithaus: Jessica Tampas)
After encouraging a student to write a series of sonnets, Heithaus turned the assignment on himself and began to write sonnets inspired by illustrations of poison plants in an old Webster's Dictionary. He began publishing some of these sonnets in magazines such as Poetry and the American Poetry Journal and then Heithaus won the prestigious 2007 Discovery/The Nation Prize for a group of ten "Poison Sonnets." Those sonnets are now the central thread of the book, a weave of fifty-four sonnets exploring the nature of poison and celebrating the complexities of language.
According to David Wojahn, a 2007 finalist for the Pulitzer Prize in Poetry, "There is something of Roethke in Joseph Heithaus' edgy and muscular sonnets: as with the work of that great master, the poems approach the natural world through a conflation of awe and terror. And --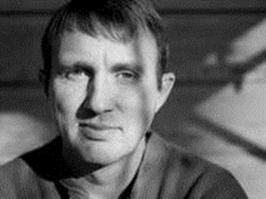 again like Roethke -- for Heithaus the natural world and the familial one are helplessly and invariably conjoined. I admire the effortless formal invention of these poems, but it is their steady and concentrated elegiac gaze which gives these poems their authority. Poison Sonnets is a exceptionally noteworthy debut."
Adds Maurice Manning, finalist for the 2011 Pulitzer in Poetry and former DePauw professor, "Botany and poetic form make good companions -- each is intricate, mysterious, and often in league with beauty. But there is a difference: a lowly weed arrives at random and raggedly, whereas a sonnet is alleged to be the result of refinement and design. Joseph Heithaus has placed human life in the middle of this spectrum, and found at the center of his fine book a dark and quiet question. Are we merely evolved, the result of a sum of instincts, or are we more carefully composed? It is an impossible question, the kind we expect poetry to ask."
Learn more, and order the book, at Amazon.com or Barnes & Noble.com. You're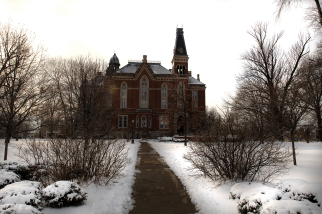 also invited to visit the professor's website.
Heithaus will read from Poison Sonnets on February 23 at 7 p.m. at the Putnam Country Public Library.
The poems of Joe Heithaus have appeared in Poetry, North American Review, the Southern Review, Prairie Schooner and Indiana Review. The professor is one of five "Airpoets," whose poems have been integrated into stained-glass window murals in the new Indianapolis International Airport and are featured in two books, Rivers, Rails and Runways and Airmail.
Heithaus is the subject of this previous article.
Back