Tim Ubben '58 to Receive Top CASE Award for Alumni Volunteer Involvement
May 15, 2012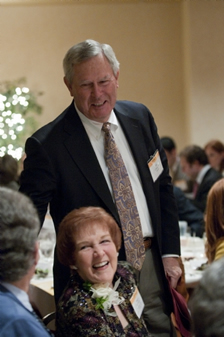 Timothy H. Ubben, a 1958 graduate of DePauw University, is the 2012 recipient of the Ernest T. Stewart Award for Alumni Volunteer Involvement. Presented by the Council for Advancement and Support of Education (CASE), the Stewart Award is the highest honor CASE gives to volunteer alumni. Recipients are recognized for exceptional overall service to their alma maters.
Ubben will be honored at a luncheon on Monday, July 16, in conjunction with the CASE Summit for Leaders in Advancement in Washington, D.C.
"For more than 30 years, Ubben has been an active volunteer and served as a member or leader of various boards and committees, including president of the Alumni Association Board of Directors, member and chair of the DePauw University Board of Trustees and honorary chair of the National Campaign Committee," notes today's announcement. "In his nomination letter, the president of DePauw University noted that Ubben has 'elevated this institution's national reputation and redefined student and faculty opportunities' through his volunteer involvement and significant gifts that created several academic programs.
This includes multiple gifts to establish 15 Ubben Endowed Chairs and an endowed lectureship that brings world leaders to DePauw's Midwest campus."
Read more here.
Tim Ubben chaired DePauw's Board of Trustees from 1998 to 2001 and continues his service as an advisory trustee; he was a member of the Alumni Association Board from 1983-87 and served as chair from 1985-87; chaired The Campaign for DePauw: Leadership for a New Century, which raised more than $376 million; was a member of the presidential search committee in 2007-08; and was awarded DePauw's Old Gold Goblet for "eminence in life's work and service to alma mater" in 1993.
The founder of Lincoln Capital Management, Ubben has served on the national board of directors of the Posse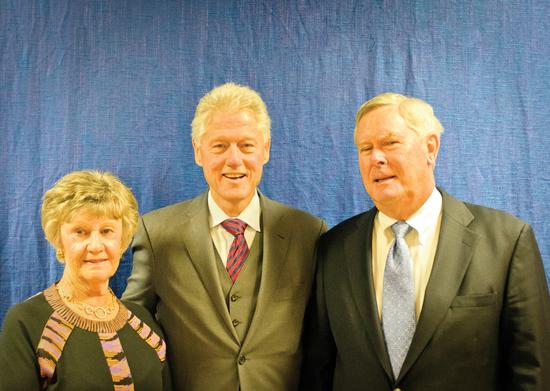 Foundation since 2004, founded the Chicago Posse in 1999, and was honored as a "Posse Star" in 2009; as a director of the Boys and Girls Club of Collier County, Florida; and as director of the Philharmonic Center for the Arts in Naples, Florida. (at right: Sharon and Tim Ubben flank Ubben Lecturer Bill Clinton; November 18, 2011)
Tim Ubben and his wife and DePauw classmate, Sharon Williams Ubben, will receive honorary doctoral degrees at the University's 173rd commencement this Sunday, May 20. Learn more in this previous story.
Back