Chemistry Prof. John McFarland '49 Dies at Age 89
January 29, 2013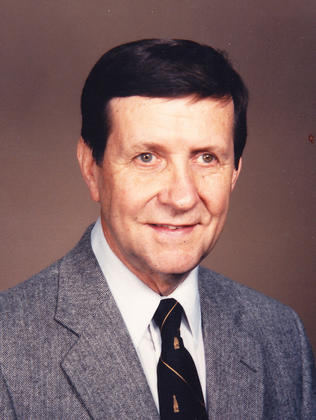 John W. McFarland, professor emeritus of chemistry at DePauw and 1949 graduate of the University, died yesterday at Asbury Towers in Greencastle. A member of the DePauw faculty for 33 years, Dr. McFarland was 89 years old.
Born August 16, 1923 in Elkton, Tennessee, McFarland served in World War II in the Army Air Corps as a technical sergeant on the Gold Coast of Africa. He received his bachelor's degree from DePauw, a Ph.D. from Vanderbilt University, and was a post-doctoral fellow at Massachusetts Institute of Technology from 1953-55.
McFarland was employed for six years as a research chemist with DuPont Chemical in Wilmington, Delaware, before joining the DePauw faculty in 1961. He taught in his alma mater's chemistry department until his retirement in 1994, also serving as assistant dean of students, chairman of his department, and as the University's pre-medical/pre-dental advisor.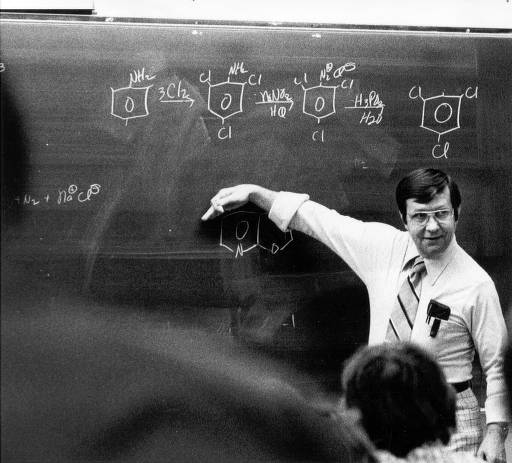 Dr. McFarland's work was published in the Journal of Organic Chemistry , Sulfur Reports, Journal of Heterocyclic Chemistry and Tetrahedon. His Laboratory Text for Organic Chemistry was published by C.V. Mosby in 1969. The recipient of grants from the Petroleum Research Foundation and Research Corporation, McFarland served as a visiting professor at the University of Nijmegen in The Netherlands and was made a Fellow in the University by the Dutch government in 1979. He was also a visiting professor at Vanderbilt and a visiting lecturer at the University of Illinois. In 1975, the professor was invited to lecture at the Fifth International Symposium on Heterocyclic Chemistry in Bratislava, Czechoslovakia, and Ljublijana, Yugoslavia.
In a 1991 Christian Science Monitor op-ed, McFarland wrote that fewer
American students were studying science and medicine and warned of the consequences. "A high-technology economy demands a high investment in science. If Americans want to maintain their standard of living into the next century, now is the time for a commitment to science education."
The professor was also seen in a 1987 report on Indianapolis CBS affiliate WISH-TV, embedded below.
A memorial service will be held on Saturday, February 2, at 10 a.m. at Gobin Memorial United Methodist Church. The McFarland family will receive friends on Friday, February 1, from 3-8 p.m. at Bittles and Hurt Funeral Home in Greencastle.
An obituary is published in today's Banner-Graphic.
Back