Barbara Kingsolver '77 Offers Class of 1994 'As Little Advice as Possible'
May 21, 1994

[Download Audio: "Barbara Kingsolver's 1994 Commencement Speech" - 10,044kb]
May 21, 1994, Greencastle, Ind. - Bestselling author Barbara Kingsolver says DePauw taught her that "scholarship is not about information you can retain in your head; it's about knowing which questions to ask and where to start looking for the answers." Kingsolver, author of The Bean Trees and Pigs in Heaven, provided the address to DePauw's Class of 1994 today at the University's 155th commencement.
In her speech, titled "As Little Advice as Possible," Kingsolver reflected upon the trials of her years at DePauw but was quick to point out that overcoming obstacles and setbacks added greatly to her education. She also praised her liberal arts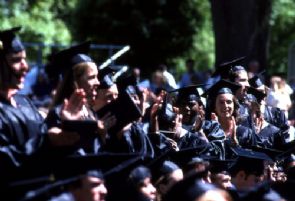 education for expanding her horizons and making her feel comfortable in taking academic and social risks.
"The best thing about DePauw is that it required me to take courses in poetry and mathematics and biology and history," Kingsolver told the audience. "I was not allowed to be narrow in my interests, and I was rewarded for trying really hard to see the fibers of logic and consequence that connect poetry and biology and history. I believe that's the most precious and useful kind of education that a person can ever have."
Audio of the entire speech is available as an MP3 file. The link can be found at the top of this page. Video is embedded below.
Kingsolver also received an honorary Doctor of Letters degree during the ceremony, which took place on the lawn of historic East College. Max L. Stackhouse,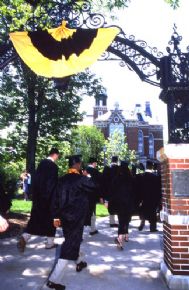 Steven Colwell Professor of Christian Ethics at the Princeton Theological Seminary and 1957 graduate of DePauw, received an honorary Doctor of Humane Letters degree.
Ellen J. Morrison, recipient of the 1994 Walker Cup, urged her peers to consider the condition of the world they face not as an intractable curse, but rather a manageable challenge to test their abilities. She says her class will have the opportunity and the responsibility to rectify the social, environmental and cultural damage that past generations left in their wake.
Four retiring faculty members were recognized at today's commencement: H. John Eigenbrodt, professor of philosophy and religion since 1957; Roger Gustavsson, professor of philosophy and religion since 1961; John W. McFarland '49, professor of chemistry since 1961; and Shanker Shetty, professor of economics and management, who has taught at DePauw since 1979.
(photos by Dave Repp)
Back