Sue Ansel '82 Among USA's 'Top 25 Women in Commercial Real Estate'
March 8, 2013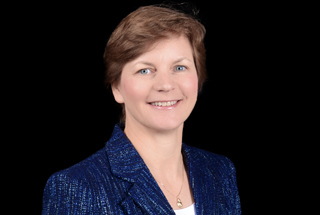 Susan M. Ansel, president and CEO of Gables Residential and 1982 graduate of DePauw University, is listed among the 25 "Top Women in Real Estate" in the current issue of Commercial Property Executive.
"After 25 years with Gables Residential, Susan Ansel has come to know the luxury apartment REIT inside and out, serving in positions in every area except accounting," notes the publication. "She jumped from senior vice president to COO in 2005, just months before Gables went private in a $2.8 billion acquisition by a group led by ING Clarion Partners, and spent the next seven years overseeing operations as the company continued to build its presence as one of the leading multi-family management and development companies. Its portfolio now includes nearly 40,000 owned and/or managed apartment homes. Ansel, who assumed her current position in mid-2012, has played a leading role in initiatives including formation of the company's asset management group and advancement of its third-party client services. She also had a hand in modernization of its technology, including the 2011 launch of its award-winning Web site and sustainability efforts."
"I am a good listener," says Ansel, who was an economics major at DePauw and serves on the

University's Board of Visitors. "I try to treat everyone with respect and have a calm personality that lends itself to careful assessment of all situations."
Read more here.
Sue Ansel was named Multifamily Executive magazine's "2010 Executive of the Year." She presented the address for her 25th reunion class at 2007's Alumni Reunion Convocation. Learn more in this story.
Back