Installation of New AstroTurf Progressing at Blackstock Stadium
July 1, 2013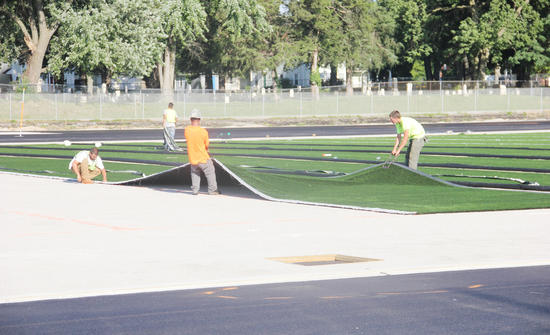 "Workers use strength and finesse to carefully install the new synthetic turf at DePauw University's Blackstock Stadium," notes a caption to a photo in today's Banner-Graphic. "The renovations at DPU span throughout the athletic facilities. Blackstock Stadium is expected to be ready for the fall season when new head coach Bill Lynch begins his second stint as leader of the Tigers."
The surface being installed at Blackstock is AstroTurf® GameDay Grass 3D52 Xtreme™.
Access the item here.
The comprehensive Athletics and Recreation Facilities Master Plan, endorsed by the Board at its October 2012 meeting, provides a roadmap for investments in athletics and recreation facilities. Phase One of the plan will result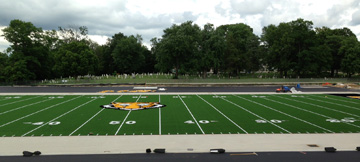 in more than $25 million in facility enhancements, including an initial 36,000 square-foot expansion and renovation of the Lilly Center, along with significant improvements to competition venues in the University's athletics campus. Learn more in this previous summary.
A webcam shows up-to-the-minute glimpses at the work being done at Blackstock Stadium. It's available by clicking here.
You're also invited to visit the Building DePauw page to learn more about the athletics campus.
Back