NBC Affiliate's 5 p.m. Newscast is Televised Live from DePauw Campus
April 10, 1987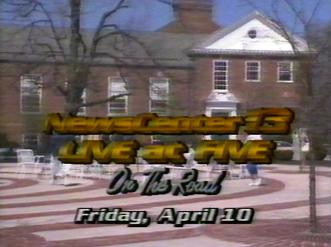 April 10, 1987, Greencastle, Ind. - DePauw University and Greencastle were in the spotlight this evening as Indianapolis NBC affiliate WTHR televised its 5 p.m. newscast, Live at Five, from Bowman Park.
Anchors Anne Ryder and Bill Gephardt talked with President Robert G. Bottoms about DePauw's commitment to diversify its student body and reported on efforts by the City of Greencastle to bounce back from last year's decision by International Business Machines Corporation -- the city's largest employer -- to close its parts distribution center and move its 985 jobs elsewhere. There was even a look at the infamous "buzz bomb" on the courthouse square.
Those interviewed in the segments include sophomore Donna Reber and Mayor Bobby Albright, and the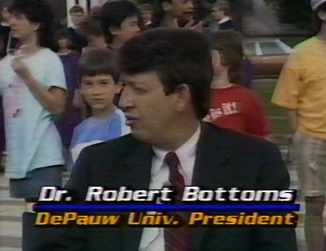 Greencastle High School Swing Choir is seen and heard several times throughout the program.
"One of the major sources of pride in this community is the academic excellence provided by its nationally recognized DePauw University," Gephardt noted.
The station's visit comes in the midst of the celebration of the 150th anniversary of the University's founding.
Video highlights of the broadcast are embedded below.
Source: WTHR (NBC)/Indianapolis
Back