Gift by Family of Late Prof. Howard Burkett Will Endow Student Experiences in Chemistry and Biochemistry
July 9, 2014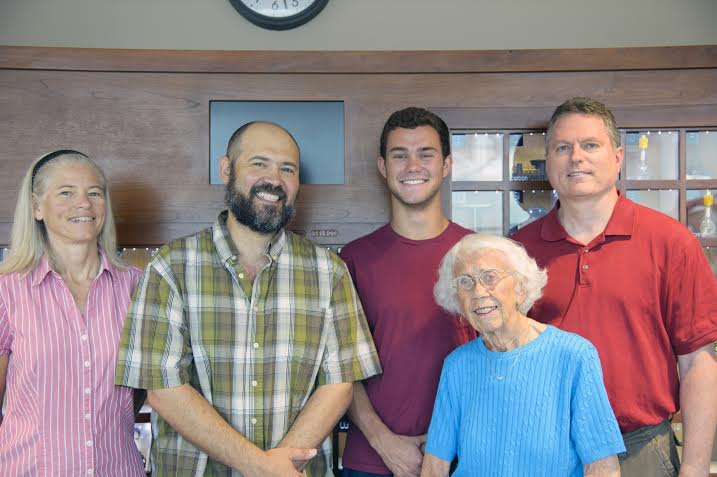 Lucile E. Burkett of Greencastle has made a $50,000 gift to DePauw University in honor of her late husband, Howard B. Burkett, professor emeritus of chemistry at DePauw and 1938 graduate of the University. The gift will creates a permanent endowment which will provide support for chemistry and biochemistry students at DePauw. (photo courtesy Banner-Graphic; Bridget Gourley, professor of chemistry and biochemistry; Rich Martoglio, associate professor of chemistry and biochemistry; Nick Moore '16; Lucile Burkett; and Jeff Hansen '86, professor of chemistry and biochemistry)
"Howard loved DePauw and the interactions he had with many students over more than 35 years teaching at DePauw," Mrs. Burkett notes. "This is my family's way of ensuring that the legacy of DePauw that my husband embodied -- faculty members who teach full-time in small classes, and who stay in touch with their students for a lifetime -- is carried forward."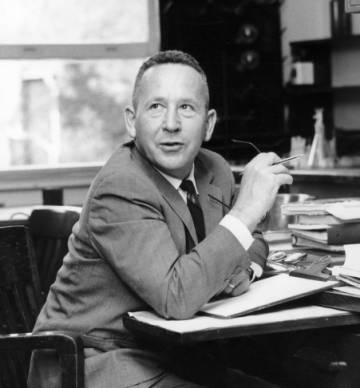 After receiving a bachelor's degree, with honors, from DePauw, which he attended as a Rector Scholar, Howard Burkett earned his doctoral degree from the University of Wisconsin in 1942. He then worked as a research chemist for Eli Lilly & Company, but decided in 1945 to go into teaching and returned to DePauw as a faculty member.
"Leaving Lilly was one of the most foolish things economically that I could have done," Dr. Burkett said as he retired from the DePauw faculty in 1981, recalling that he took a 50% pay cut when he left the pharmaceutical company. "It sounds a bit presumptuous, but I felt we needed teachers who were rigorous and who could keep the field alive."
As a scholar, Dr. Burkett spent two sabbaticals at the University of Washington; a year at the National Institutes of Health, where he studied arthritis and metabolic diseases; and a year with the customer service laboratory at the Hitachi Corporation in Japan. The professor's work was published in the Journal of the American Chemical Society, Journal of Organic Chemistry and Journal of the Chemical Society of London, among others. His memberships included the American Chemical Society and Sigma Xi. (at right: Dr. Burkett and Percy Julian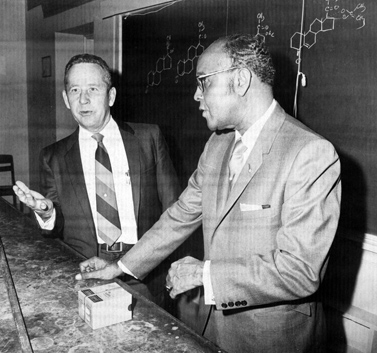 '20 circa 1970)
Upon Professor Burkett's retirement, the University's Burkett Lecture Series was established to honor the contributions Burkett made to his students, many of whom went on to noteworthy careers in science. Created through the generous contributions of the professor's family, friends and former students, Burkett Lectures provide an opportunity for a nationally known chemist to visit DePauw, present a seminar, and meet with both students and faculty.
Howard Burkett died on June 15, 2009 at age 93. He and Lucile were married for 73 years and had three sons, Harvey, David and Richard, and one daughter, Nancee, a 1960 DePauw graduate.
"It is gifts like this that make DePauw the special place that it is and allow us to create new opportunities for young scholars to thrive here," says Larry Stimpert, vice president for academic affairs. "That the family of a faculty member makes a gift in his honor says much about the special bonds that are made on this campus, which resonate for many years -- in fact, for generations."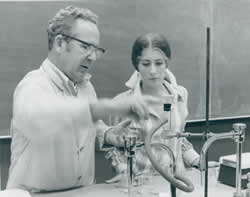 As a result of the gift, each year in perpetuity, one or more students will be designated as Burkett Scholars and awarded a stipend to support opportunities for student-faculty collaborative research on campus, off-site internships or other research or internship opportunities.
The first Burkett Scholar is Nicholas R. "Nick" Moore '16, a chemistry major who will be a junior in the fall.
Back