New Program -- Rector Scholarships -- Announced
April 30, 1919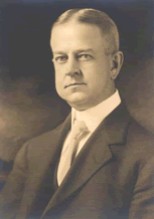 April 30, 1919, Greencastle, Ind. - At chapel exercises on this day, DePauw President George R. Grose announced that Mr. Edward Rector of Chicago "was willing to deposit enough money with DePauw University to provide four hundred scholarships in perpetuity," wrote William Warren Sweet in his history of DePauw. In June, the University's Board of Trustees accepted the gift. (Edward Rector seen at top; his wife, Lucy Rowland Rector, is pictured below)
"Rector's interest in DePauw in its beginning had been due to his friendship for Roy O. West, the president of the Board of Trustees," Sweet points out. "In 1916, he had become a trustee, and from that time forward, DePauw University tended to become more and more his vocation and practicing patent law his avocation, as he himself so stated on a number of occasions. Mrs. Rector manifested an equal interest in all that was done for DePauw, and since they had no children of their own, they came to consider the whole student body as a part of their family, and the students as their children. No one ever
more completely gave themselves with their munificent gifts than did Mr. and Mrs. Edward Rector." The book, DePauw: A Pictorial History, adds, "His gifts to the university, as he explained to his fellow trustees, were 'investments in humanity, in the men and women who are to carry out the work of our country and of the world when you and I are gone.'"
Sweet continues, "Mr. Rector had made it very clear that his principal motive in establishing the [Scholarship] Foundation was not charity. He was not primarily interested in helping indigent students, nor in increasing the attendance at DePauw, but primarily and always in encouraging high-grade scholarship in the high schools and at DePauw. He hoped to encourage young men to compete for the scholarships, and he hoped the scholarships would be considered an honor worth striving for... The basis upon which the scholarships were to be assigned was that of character and scholarship, and, indeed, no inquiry was to be made as to the financial status of the applicant."
The book notes that in the Foundation's first year (1919-1920) there were 47 Rector Scholars, 155 the second year, and 242 the third. By the 1932-33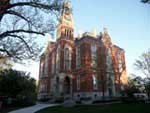 academic year, a total of 700 Rector Scholars were enrolled at DePauw.
Rector Scholarships are still awarded to this day. Learn more about the program by clicking here.
DePauw: A Pictorial History is accessible online.
Read more about the Rectors and their gifts to DePauw here.
Back