US Association of Former Members of Congress Honors Lee Hamilton '52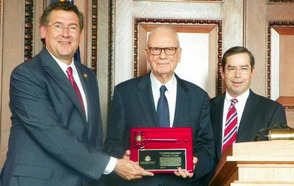 July 16, 2014
Lee H. Hamilton -- former United States Representative, director of the Indiana University Center on Congress, and 1952 graduate of DePauw University -- is the recipient of the 2014 Distinguished Service Award of the U.S. Association of Former Members of Congress. The award was presented at the group's 44th annual meeting today in Washington, D.C.
The Association of Former Members of Congress is a non-profit organization that focuses on bipartisanship, dialogue and strengthening representative democracy domestically and abroad. "He is a man of great intelligence, foreign policy credentials, and dedication to serving the people of Indiana and all Americans," notes the organization's citation. "He is considered one of the most influential former members of Congress."
"We are thrilled to present Lee with this award recognizing his distinguished service in Congress and his subsequent active involvement in so many
crucial endeavors to keep our country safe in the post-9/11 world," says former Rep. Barbara Kennelly, (D-Conn.), the association's president. (at left: Hamilton chats with DePauw students in the hallway of historic East College)
"What makes Lee Hamilton so deserving of our award is not only his work when he was in office, but also his tremendous involvement in so many commissions and other service activities since he retired from Congress," stated Peter M. Weichlein, CEO of the association.
A history major and basketball standout at DePauw, Lee Hamilton went on to a career as an attorney before being elected to the U.S. House of Representatives in 1965. A Democrat, he served 34 years in Congress, "establishing himself as a leading figure on foreign policy, intelligence and national security," notes an announcement from IU. "His chairmanships included the Committee on Foreign Affairs, the Permanent Select Committee on Intelligence and the Select Committee to Investigate Covert Arms Transactions with Iran. He also was chairman of the Joint Committee on the Organization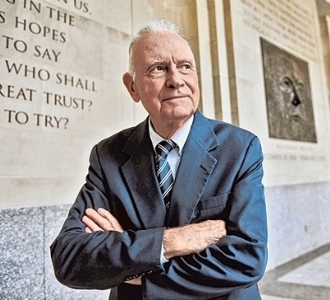 of Congress and worked to promote integrity and efficiency in the institution."
Hamilton retired from Congress in 1999 and founded the Center on Congress at IU - Bloomington and served as president of the Woodrow Wilson International Center for Scholars in Washington until 2010.
He has also remained active in public service, and was vice chairman of the National Commission on Terrorist Attacks Upon the United States (known as the 9/11 Commission), and co-chaired the Iraq Study Group. Hamilton currently co-chairs the Bipartisan Policy Center's Homeland Security Project, a successor to the 9/11 Commission that develops solutions to emerging threats.
Lee Hamilton is a professor of practice in the School for Public and Environmental Affairs at Indiana University, a distinguished scholar in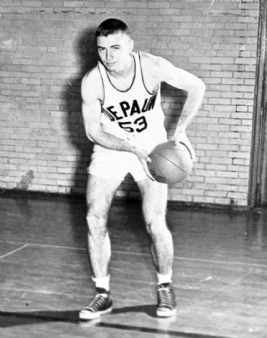 IU's School of Global and International Studies and co-chairs IU's International Engagement Advisory Board. He has authored three books: How Congress Works and Why You Should Care; Strengthening Congress; and A Creative Tension: The Foreign Policy Roles of the President and Congress. He co-authored (with former Gov. Thomas Kean) Without Precedent: The Inside Story of the 9/11 Commission. He's also a member of the Indiana Basketball Hall of Fame.
Read more here.
Congressman Hamilton has been a frequent visitor to DePauw over the years and delivered an Ubben Lecture on March 15, 2011.
Back