619 New Students Welcomed to DePauw, "A Place Where People Come to Change the World"
August 22, 2015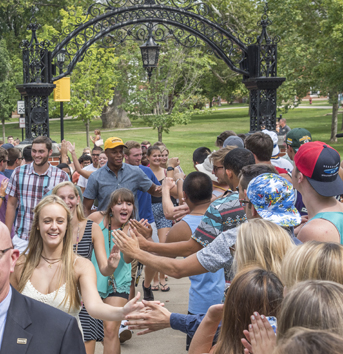 Photo Gallery
"You never know what complex array of interests and loves and connections and passions you will encounter on this campus, with this faculty and with your fellow students," DePauw University President Brian W. Casey told 619 new students at the annual opening convocation this afternoon. "And you don't know which of these things are the things that will stun you and will become your newest interests, and these interests might not line up perfectly. I'm telling you that that's not only okay, it's glorious."
DePauw's 19th president addressed members of the Class of 2019 and their families at the traditional opening convocation, which was held this afternoon in the Green Center for the Performing Arts, Kresge Auditorium. The program takes place after a busy day of moving into residence halls and mingling with other new students at a picnic lunch.
DePauw's Class of 2019 comes from 23 different countries. Of the new students, 594 are first-years, another 16 are transferring to DePauw and there are nine international exchange students this fall. Forty-four members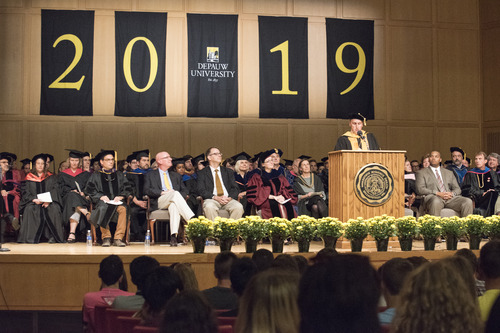 of the incoming class are enrolled in the DePauw School of Music. Nineteen percent are DePauw legacies (a parent, grandparent or sibling has attended the University in the past).
"In the next few days you'll be asked a million times, 'Where are you from?', 'What dorm do you live in?', 'What do you want to major in?'," Dr. Casey said. And these are all variations on the bigger question of, 'Who are you?'. And you will have your pat answers, but know that in very short order your answers to these questions will be changed, because you will have been changed. Your education will be upon you."
"You are, in this moment of your life, in that 'strange river' between childhood and adulthood," Joseph Heithaus, professor of English, told the new students. "Fortunately for you, there is a whole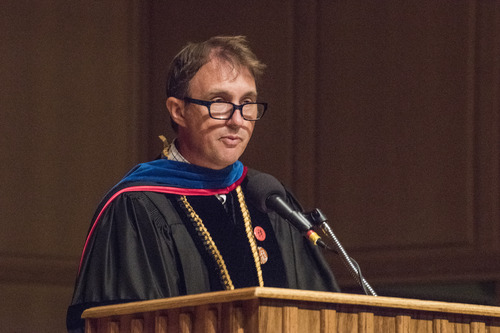 cast of faculty and staff to help you negotiate that space. But we're not going to give you answers; we'll help you develop your own questions, and we'll give you languages to discern and to begin to understand."
Heithaus, who was selected by last year's senior class to address the incoming class at the opening convocation, based his talk around the poem The Beginning of Speech by Adonis, a Syrian poet who will be visiting campus next month. The poem reflects on the transformation that occurs from childhood to becoming an adult.
"They say that when we die, our lives flash before us. I think on the day we go to college, our lives flash before our parents' eyes," Professor Heithaus noted as looked out at the students and parents who filled the seats of the auditorium.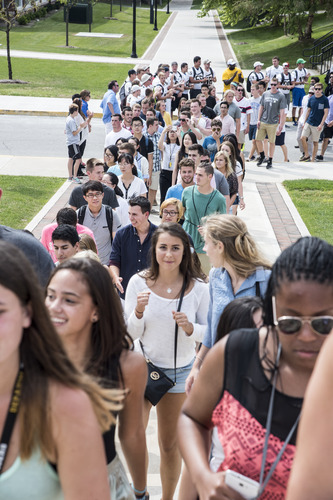 "On this day and in the days to come, you will have many moments of confusion, but you will also have moments of pristine clarity, moments you will remember the rest of your lives," the poet and professor stated. He reminded the Class of 2019, "as you move away from the child you were, to not leave the child behind, to draw upon that deep primal self, that connection to the earliest life -- creative, profound, and ever changing, that lives in each of you."
Heithaus won the 2007 Discovery/The Nation Prize for a group of sonnets about poison plants that are the central thread of his first book, Poison Sonnets, published in 2012. He concluded, "If you remember anything from my speech today, I want you, in the midst of your education here, to visit that child you once were, to bask in that wild, simple, creative self a person at the beginning of speech who with one or two words spoke all things."
Craig Carter, student body president, invited the new undergraduates to the beginning of "a journey that few have traveled but many have envied, because DePauw is a place where people come to change the world."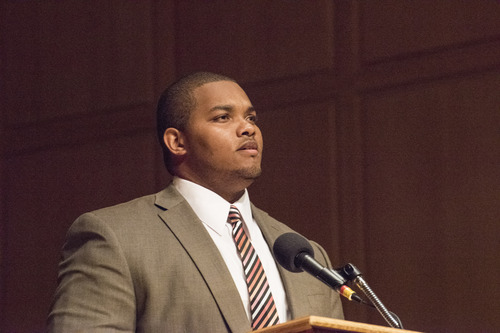 The senior urged the Class of 2019 to take advantage of the many connections the DePauw community has to offer and to embrace the challenges they will face.
"If you take nothing else away from me today, take this, that the people you meet here at DePauw, like yourselves, are like no others in the world and, like yourselves, their primary goals are, to improve themselves and the world they live in," stated Carter, a biology major and football player from Chicago.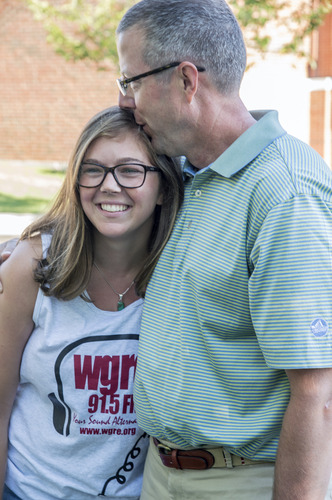 The new students and their families also heard from Anne Harris, vice president for academic affairs; Christopher Wells, vice president for student life; and Donald M. Phelan '79, president of the DePauw Alumni Association.
After the program, students said goodbye to their families, had dinner with their faculty advisors and student mentors, and gathered for a class social.
Learn more about the Class of 2019 here.
Classes for the 2015-16 academic year begin Wednesday.
Back