DePauw Welcomes 619 New Students This Saturday, Opening Day of the 2015-16 Academic Year
August 18, 2015
DePauw University is ready to welcome 619 new students to campus this Saturday, the traditional opening day of the academic year.
"It's always a wonderful sight to see as this remarkable college begins yet another new chapter in its history," says Cindy Babington, vice president for admission and financial aid at DePauw. "The 179th entering class brings with it a tremendous amount of academic achievement, extracurricular involvement and a commitment to service in their home communities. We look forward to welcoming the students and their families this weekend as they begin what will be an impactful and life-changing four year experience."
An even 594 of the new students are first-years, another 16 are transferring to DePauw and there are nine international exchange students this fall. Forty-four members of the incoming class are enrolled in the DePauw School of Music.
51% of the incoming students are female, 49% are male.
19% are DePauw legacies (a parent, grandparent or sibling has attended the University in the past).
23 students are receiving financial assistance through The DePauw Trust. Launched last fall, it is a long-term effort to considerably expand the University's endowment dedicated to student access and support.
18% of the Class of 2019 are students of color; 9% come from countries outside of the United States.
The new students represent 23 different countries.
The Management Fellows program will welcome 57 new students. There are 41 new Honor Scholars, 27 Media Fellows, and 11 incoming students each in the Science Research Fellows and Environmental Fellows programs.
Per tradition, students and their families will spend Saturday morning moving in to residence halls. There will be a lunch in Bowman Park to welcome the new members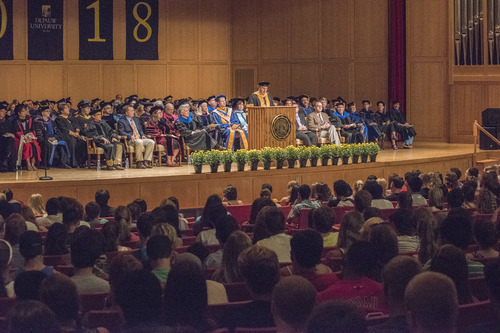 of the DePauw community, and at 4 p.m. the incoming students will process through the gate outside East College and across campus for the opening convocation, which is attended by the entire DePauw faculty and features speeches by the student body president and President Brian W. Casey, among others.
A live webcast of the convocation is available via this link.
For more information, click here.
Back