Lee Hamilton '52 to Receive Presidential Medal of Freedom
November 16, 2015
Lee H. Hamilton, veteran statesman and 1952 graduate of DePauw University, is among seventeen individuals named today by President Barack Obama as 2015 recipients of the Presidential Medal of Freedom.
The Presidential Medal of Freedom is the nation's highest civilian honor, presented to individuals who have made especially meritorious contributions to the security or national interests of the United States, to world peace, or to cultural or other significant public or private endeavors. The awards will be presented at the White House on November 24th.
This year's other honorees include Itzhak Perlman, Willie Mays, Barbra Streisand, Steven Spielberg, Emilio and Gloria Estefan, James Taylor, and Yogi Berra, who will receive the award posthumously.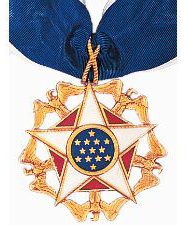 "From public servants who helped us meet defining challenges of our time to artists who expanded our imaginations, from leaders who have made our union more perfect to athletes who have inspired millions of fans, these men and women have enriched our lives and helped define our shared experience as Americans," President Obama said.
The announcement from the White House notes, "Lee Hamilton has been one of the most influential voices on international relations and American national security over the course of his more than 40 year career. From 1965 to 1999, he served Indiana in the United States House of Representatives, where his chairmanships included the Committee on Foreign Affairs, the Permanent Select Committee on Intelligence, and the Select Committee to Investigate Covert Arms Transactions with Iran. Since retiring from Congress, Hamilton has been involved in efforts to address some of our nation's most high profile homeland security and foreign policy challenges. He served as Vice Chairman of the 9/11 Commission and Co-Chairman of the Iraq Study Group. He was Co-Chairman of the Independent Task Force on Immigration and America's Future, which issued a report in 2006 calling for reform of the nation's immigration laws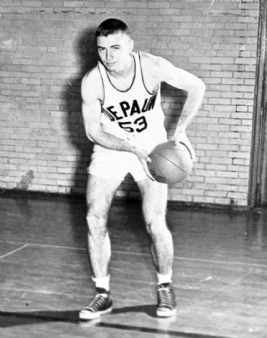 and system. And through the founding of the Center on Congress at Indiana University, he has also been a leading advocate for bi-partisanship and effective governance."
Read more here.
A history major and basketball standout at DePauw, Lee Hamilton was one of five individuals inducted this summer into the Capital One Academic All-America® Hall of Fame, as selected by the College Sports Information Directors of America (CoSIDA). He's also a member of DePauw's Athletic Hall of Fame.
Congressman Hamilton has been a frequent visitor to DePauw over the years and delivered an Ubben Lecture on March 15, 2011 (video embedded below) and the commencement addresses in 1971 and 1998.
Back