Lee Hamilton '52 to be Inducted Into Capital One Academic All-America® Hall of Fame
March 17, 2015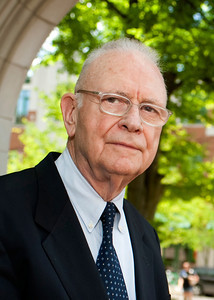 Lee Hamilton, a basketball standout as an undergraduate at DePauw University who went on to serve 34 years with distinction in the U.S. House of Representatives, is among five 2015 inductees into the Capital One Academic All-America® Hall of Fame, as selected by the College Sports Information Directors of America (CoSIDA).
The other 2015 honorees are Shane Battier, a Duke University men's basketball star and former NBA standout; Grant Jones, who played football at Denison University and became Ohio State University's team physician; Angela Ruggerio, a Harvard graduate and United States Olympic women's hockey medalist ; and Danny Wuerffel, Florida's Heisman Trophy winning quarterback.
The five new inductees join 132 members of the Capital One Academic All-America® Hall of Fame, which was created in 1988. They will be inducted into the Academic All-America® Hall of Fame at CoSIDA's annual convention in Orlando, Fla. on Monday, June 15, at the organization's sixth annual Capital One Hall of Fame Ceremony at the World Center Marriott.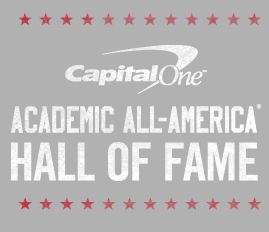 "A dedicated public servant, Congressman Lee Hamilton's legacy of service to his country and to the people of the state of Indiana has been unrivaled for more than a half century," notes a biography included in today's announcement. "A basketball standout in the early 1950's at DePauw University, an institution that has produced so many hoop luminaries that include Boston Celtics Head Coach Brad Stevens, Congressman Hamilton averaged nearly 11 points per game over the course of three seasons for the Tigers, including a double-double effort of 10.9 points and a team-best 10.7 rebounds during his senior campaign of 1951-52. He earned a degree in history from DePauw in 1952 and graduated with high distinction (the equivalent of cum laude) while earning the Walker Cup as a member of the senior class determined to have done the most for the school during his or her college career. Elected to the Indiana Basketball Hall of Fame in 1982, Congressman Hamilton was enshrined in his alma mater's Athletic Hall of Fame five years later.
"Hamilton was elected to the United States House of Representatives in January 1965 and served Indiana's 9th District with great distinction for the next 34 years. He served as chairman of the House Committee on Foreign Affairs, the
Permanent Select Committee on Intelligence and the Select Committee to Investigate Covert Arms Transactions with Iran. Hamilton also served as chairman of the Joint Committee on the Organization of Congress and worked to promote integrity and efficiency in the institution.
"After his retirement from the House of Representatives, Hamilton served for 11 years as President of the Woodrow Wilson International Center for Scholars located in Washington, D.C. He served as vice chairman of the National Commission on Terrorist Attacks (also known as the 9/11 Commission) and also served as co-chairman of the Iraq Study Group with former Secretary of State James Baker.
"Congressman Hamilton currently serves as director of the Center on Congress at Indiana University. He is a member of the President's Homeland Security Advisory Council, the CIA External Board and the United States Department of Homeland Security Task Force on Preventing the Entry of Weapons of Mass Effect on American Soil."
Founded in 1957, CoSIDA is the second-oldest management association in intercollegiate athletics.
Today, it is a vibrant 3,000-plus member national association composed of the sports public relations, communications and information professionals throughout all levels of collegiate athletics in the United States and Canada.
CoSIDA founded in the mid 1950's the highly regarded "Academic All-America®" program, unquestionably viewed as the premier awards program in intercollegiate athletics for honoring combined academic and athletic excellence. (at left: Hamilton chats with DePauw students in the hallway of historic East College)
Read more here.
Called "Mr. Integrity" by Newsweek, Lee H. Hamilton is the recipient of the Churchill Award for Statesmanship, the Eisenhower Medal for exceptional leadership, the Distinguished Service Award from the U.S. Association of Former Members of Congress, and the Franklin and Eleanor Roosevelt Institute Freedom From Fear Award, among many other honors.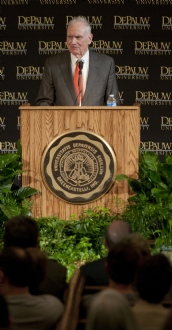 The New York Times' David Brooks opined of Hamilton, "The country is hungering for leaders like him: open-minded, unassuming centrists who are interested in government more than politics."
Lee Hamilton has authored How Congress Works and Why You Should Care; Strengthening Congress; and A Creative Tension: The Foreign Policy Roles of the President and Congress. He co-authored (with Gov. Thomas Kean) Without Precedent: The Inside Story of the 9/11 Commission. He's also a member of the Indiana Basketball Hall of Fame.
"I had an undergraduate experience at DePauw University that certainly opened my eyes to a lot of possibilities," Hamilton has stated. "I got a lot out of DePauw; DePauw was an enormously beneficial experience for me." In a September 2008 interview, Hamilton added, "I loved the professors ... I learned an awful lot from them." He noted, "I have an enormous affection for this University and the people who run it and the students who attend it. I am a great advocate of the liberal arts education."
Congressman Hamilton has been a frequent visitor to DePauw over the years and delivered an Ubben Lecture on March 15, 2011 (video embedded below) and the commencement addresses in 1971 and 1998.
Back