DePauw Alumni Tennis Association Honors President Emeritus Robert Bottoms
February 13, 2016
Robert G. Bottoms, DePauw University's eighteenth president, was presented with the President's Cup for Tennis at a dinner this evening.
Dr. Bottoms led DePauw from 1986 to 2008. The award is presented by the DePauw Alumni Tennis Association to recognize those who have provided critical leadership and support for the University's tennis community.
"As president, Bob Bottoms had an enormous impact on many facets of DePauw, and his work to raise funds for the creation of the indoor tennis and track center -- which has now served the campus and community for 15 years -- has been invaluable to our program and many who study, compete, live and work in Greencastle," noted David Kingsley, a 1964 graduate and director of DATA's special awards program.
More than 70 alumni, current students and their parents, and coaches attended the event at the Janet Prindle Institute for Ethics.
"The location in itself had great meaning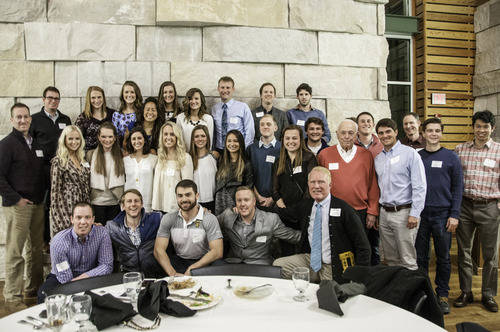 for those who understood the greater contribution which Dr. Bottoms has made to the University," added Dr. Kingsley, pointing out that the Prindle Institute opened in 2007 and was led by Bottoms following his retirement as president.
Previous recipients of the President's Cup for Tennis include Nicholas D. Chabraja, Joshua Leighton, Greg Nammari, Charlie Erdmann and Thomas Gordon.
The indoor tennis and track center was dedicated on April 27, 2001. Read more here; video of the ceremony is embedded below.
Back