Prof. Carla Edwards and Friends Collaborate on Concert for "King of Instruments"
March 12, 2016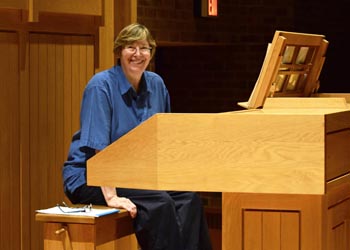 DePauw School of Music professor and university organist Carla Edwards will conclude the Faculty Select Series for the season with a concert for the "King of Instruments" at 7:30 p.m. Thursday, March 17. Joining Edwards at the J. Stanford Smith Concert Organ in the Green Center's Kresge Auditorium will be three longtime Greencastle residents and DePauw University faculty members: Randy Salman (clarinet), Harriet Thompson Moore (harp) and Eric Edberg (cello), along with School of Music faculty artists Leonid Sirotkin (English horn) and composition professor Scott Perkins.
In 1994 Edwards was approached by the independent label Calcante Recordings and asked to make a compact disc of previously unrecorded works. She chose a program of compositions for organ and other instruments in order to also showcase some of her colleagues at DePauw, titling the recording Carla Edwards and Friends. Now, almost 22 years later, she is looking to come full circle with these pieces, as well as introduce some new ones.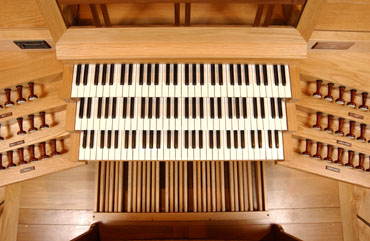 "I love doing collaborative works," said Edwards. "It is fun, interesting music, and not nearly as lonely as working on a program by yourself. And it's nice to revisit pieces after so many years. It allows you to see and hear how you've grown and changed as a player."
The process of collaborating with other instruments as an organist is tricky, the musician added. "I must balance with the soloists and yet try to use as many different colors and stops on the organ as possible," Edwards explained. "We have to practice together and the organ must balance, and we have to do that with only two or three rehearsals."
Adding to the challenge is the range of the program. The works chosen for the concert highlight Edwards's interest in a great variety of compositional styles: two are very colorful, tonal and calm; one tongue-in-cheek, jazzy and playful, while another is serious in mood and style.
Crowning Thursday's organ concert will be the world premiere of Professor Perkins's latest work November Skyline, which the composer recalls being inspired to write "while looking down at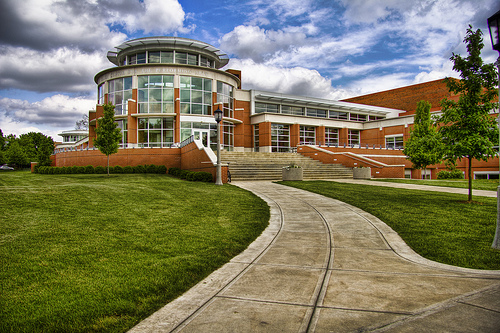 Philadelphia through an airplane window on a gray November morning." He describes the style of his piece as post-minimalist, with its generally diatonic tonal palette and repetitive gestures, combined with influences from the band Radiohead. "I thought it would be interesting to hear these sounds on a pipe organ," Perkins said.
General admission to the final Faculty Select concert of this year's series is $5; tickets for seniors, children and all students are free. For online purchases, visit www.music.depauw.edu. The venue's box office will also be open beginning one hour prior to the performance.
Back