Veteran TV & Broadway Actors Bill ('47) and Susan Seaforth Hayes at DePauw for Three-Day Residency in Sept.
August 27, 2016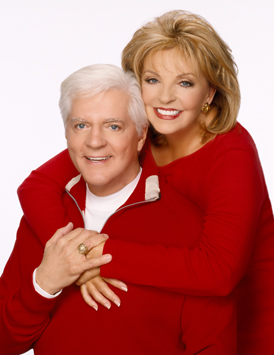 Bill Hayes -- the 1947 DePauw University graduate who scored a #1 Billboard hit in 1955 and has been a star of TV's Days of Our Lives since 1970 -- and his wife and co-star, Susan Seaforth Hayes, are coming to campus for a three-day residency, September 6-8. The visit will include several class visits and meetings with students, as well as events which are open to the public.
On Wednesday, Sept. 7, the DePauw and Greencastle communities are invited to attend "A Conversation with Bill & Susan Hayes" at the Putnam County Public Library, 103 E. Poplar Street. The program begins at 2 p.m.
The following evening, Thursday, Sept. 8, the couple will perform Love Letters. The couple have performed the show, written by A.R. Gurney, around the United States for many years and are delighted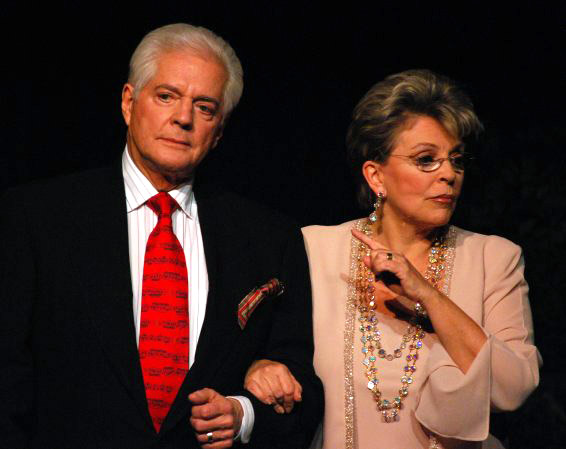 to bring it to Music on the Square in downtown Greencastle (21 N. Indiana Street). Seating for the 7:30 p.m. show will be limited; reserve a seat online by clicking here.
While at DePauw, Bill and Susan Hayes will also visit three classes, and attend a recital and a rehearsal as well as a screening of the film Reparation (which was shot in Putnam County and was directed by Kyle Ham '94 and written by Ham and Professor Steve Timm). Also on their schedule is a session for students on "Preparing for an On-Camera Audition" and an interview with student television station D3TV.
A double major in music and English and a Rector Scholar at DePauw, Hayes enlisted in the Navy and served three years, returning to Greencastle after the war to complete his studies. His resume includes numerous Broadway productions and his version of The Ballad of Davy Crockett was America's #1 record in March and April of 1955, selling more than three million copies. Hayes began playing Doug Williams on NBC's long-running daytime serial Days of Our Lives in 1970, a role he continues to play 46 years later. Twice nominated for a "Best Actor" Daytime Emmy, his resume also includes appearances on Frasier and Matlock.
Hayes received an Alumni Citation from DePauw in 1978, and in 1997 was the keynote speaker at the Class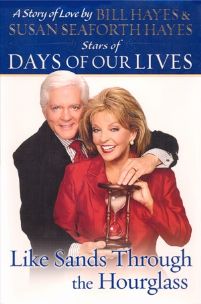 of 1947's 50th reunion.
Susan Seaforth Hayes began playing the role of Julie Olsen Williams on Days of Our Lives in 1968, and is the only actor to appear on the show for all six decades (1960s, 1970s, 1980s, 1990s, 2000s, and 2010s) in which it has been on the air. She's also appeared on The Young and the Restless and has guest starred on many TV shows, including The Fugitive, My Three Sons and The Man from U.N.C.L.E.
Bill and Susan Hayes have authored two books: the historical novel Trumpet: A Novel of the Regency Era and Like Sands Through the Hourglass.
Footage of a 1960 DePauw visit by Bill Hayes is embedded below.
Back