The Bell is Back in Greencastle!
November 12, 2016
DePauw University senior quarterback Matt Hunt hit his brother Andy with a 13 yard touchdown pass with 38 seconds left to give the Tigers a thrilling 37-34 victory in the 123rd Monon Bell Classic. The game took place in Crawfordsville and was seen by a national television audience on AXS TV. (photo: Jenna Watson/Indianapolis Star; see more here)
Sports Information Director Bill Wagner's comprehensive summary of the contest is available here.
Embedded below is the final two minutes and fifteen seconds of the game, and the celebration that followed, as seen on TV.
DePauw's game day highlights are also available:
The Monon Bell and two buses carrying the team returned to Greencastle with a police escort and journeyed through the courthouse square and campus as bystanders cheered and waved.
A commemorative, limited edition DVD of the 2016 Monon Bell Classic is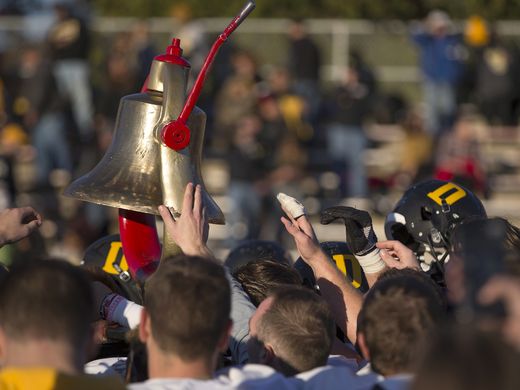 available. Learn more here.
All 123 games to date are commemorated in video vignettes known as "Monon Memories." Created by Ken Owen '82, executive director of media relations at DePauw, the clips can be found here and on YouTube.
DePauw and Wabash first met on the gridiron in 1890. In 1932, a locomotive bell from the Chicago, Indianapolis and Louisville Railroad Company, also known as the Monon Line, was donated and became the winner's trophy each year.
In the all-time series, Wabash now holds a 60-54-9 lead. Since the Monon Bell entered the rivalry in 1932, Wabash leads, 41-38-6.
You'll find much more information at DePauw's official Monon Bell website.
Back