First Battle for the Monon Bell Ends in Scoreless Tie
November 19, 1932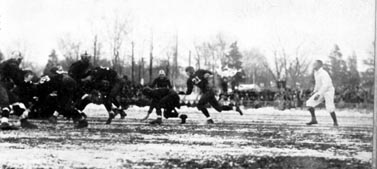 November 19, 1932, Greencastle, Ind. - DePauw University and Wabash College played to a scoreless tie on a Blackstock Field that was streaked with frozen mud. The two teams, rivals since 1890, battled for the first time for a new prize: a locomotive bell donated by the Chicago, Indianapolis and Louisville Railroad Company, also known as the Monon Line.
Crews spent two days clearing about a foot of snow off of the
frozen field.
A "Monon Memory" -- featuring photos of the 1932 battle for the Bell (including the image seen at the top of this page) -- has been created by Ken Owen '82, director of media relations at DePauw, who narrates the piece. Access the clip here:

[Download Video: "1932 Monon Memory" - 3518kb].
Access all Monon Memories here, and visit the Monon Bell Web page by clicking here.
Back