Tiger Football Coach Bill Lynch is Guest on Indy Sports Talk Radio Show
November 14, 2016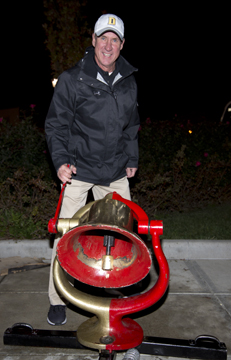 "It was a great win for our kids on Saturday, really for the whole University," DePauw head football coach Bill Lynch said this afternoon on an Indianapolis-based sports talk radio program. Lynch spent about 15 minutes speaking with Fox Sports 97.5 FM afternoon hosts Jake Query and Derek Schultz about Saturday's thrilling 37-34 DePauw victory over #17-ranked Wabash College and other topics.
Lynch, who has also been head man at Butler, Ball State and Indiana Universities, also discussed recruiting. He noted that DePauw is "an easy sell" to prospective students and their parents, noting, "We've got such tremendous alums around the country that speak so highly of the University and are successful. It is so different -- we had six starters from our football team that weren't with us the entire second semester last year. Four of them were studying abroad and two of 'em were doing internships around the country and weren't here at spring practice ... they had continued working out and doing the things they needed to do and led us to a great season."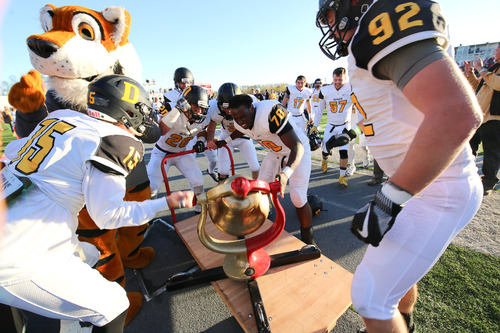 Lynch added, "DePauw students are doers and they are because they do so many things, they're involved in so many activities." Playing college football "is just part of the total experience," the veteran coach added.
Query called DePauw "one of the great schools in the country."
Hear the complete interview at the station's website.
Production began Saturday night on a commemorative, limited edition DVD of the 2016 Monon Bell Classic. It is available for order here; each school will only have 150 discs available.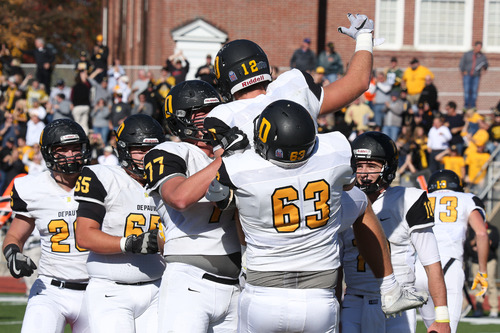 All games to date are commemorated in video vignettes known as "Monon Memories." Created by Ken Owen '82, executive director of media relations at DePauw, the clips can be found here and on YouTube.
DePauw and Wabash first met on the gridiron in 1890. In 1932, a locomotive bell from the Chicago, Indianapolis and Louisville Railroad Company, also known as the Monon Line, was donated and became the winner's trophy each year.
In the all-time series, Wabash now holds a 60-54-9 lead. Since the Monon Bell entered the rivalry in 1932, Wabash leads, 41-38-6.
You'll find much more information at DePauw's official Monon Bell website.
Back