Former VP Dan Quayle '69 Among Many Luminaries in The Words That Built America
July 4, 2017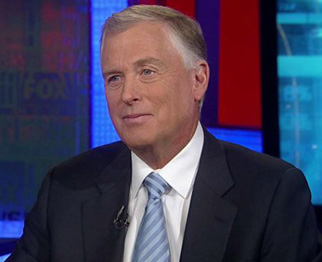 Dan Quayle, the 44th Vice President of the United States and 1969 graduate of DePauw University, is among a host of political leaders and celebrities who appear in The Words That Built America. The film by Alexandra Pelosi airs tonight at 8 p.m. (Eastern time) on HBO.
The Salt Lake Tribune's Scott D. Pierce writes that the concept of the program "is both very simple and very complicated. It's just people reading the Declaration of Independence, the United States Constitution and the Bill of Rights. But the range of people reading is amazing -- all the living U.S. presidents and vice presidents, Supreme Court justices, cabinet secretaries, senators, governors, congressmen, an astonishing array of celebrities -- and middle schoolers reading the Bill of Rights. It's what America is supposed to be all about."
Among others featured in the film are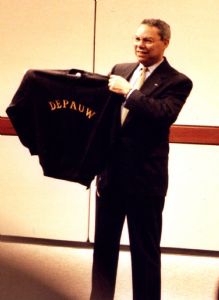 Colin Powell and Bill Clinton, who delivered Ubben Lectures at DePauw; Yo-Yo Ma, who has visited DePauw several times and will return this September; as well as Robert Redford, Robert De Niro, Morgan Freeman, and many others. Narration is provided by historian David McCullough, a 2002 Ubben Lecturer.
Learn more here.
A political science major at DePauw, Quayle captained the Tiger men's golf team. He went on to earn a J.D. from the Indiana University Robert H. McKinney School of Law. He was elected to two terms each in the U.S. House of Representatives and U.S. Senate before becoming vice president.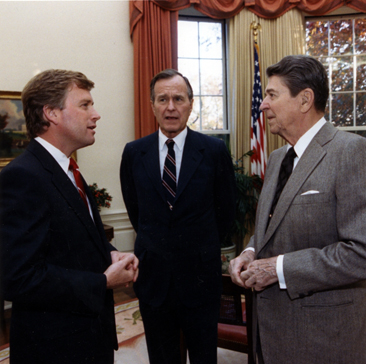 In January, Joel K. Goldstein, Vincent C. Immel Professor of Law at Saint Louis University School of Law and noted authority on vice presidents, wrote that Quayle "contributed to the development of the vice presidency as an integral part of the presidency" and "was an important adviser and operator during the Bush administration." Read more here.
The former vice president has made many return visits to DePauw. He's been awarded the University's McNaughton Medal for Public Service and in March 2015 was a guest of the Timothy and Sharon Ubben Lecture Series. That talk is summarized in this article; video is embedded below.
Source: Salt Lake Tribune
Back